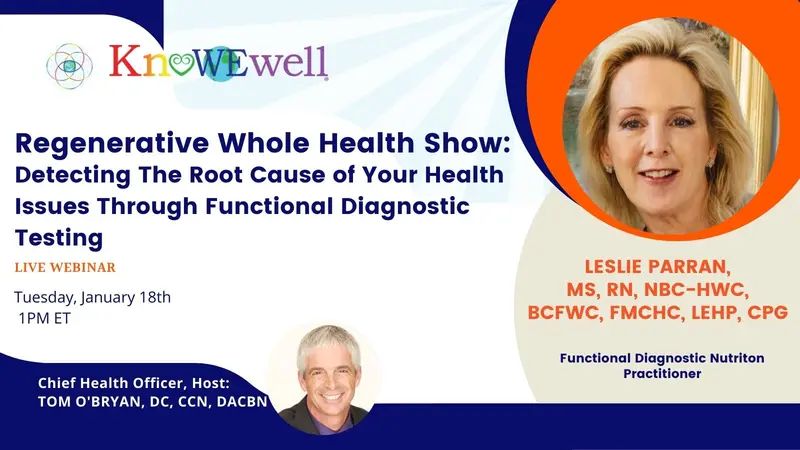 Regenerative Whole Health Show: Detecting the Root Cause of Your Health Issues Through Functional Diagnostic Testing

As a board-certified health & wellness coach and Functional Diagnostic Nutrition Practitioner, Leslie Parran shows clients how to be a health detective to identify and understand symptoms.
Symptoms are not normal. They indicate imbalance and possible illness. When looking to find the cause of our health issues, we often end up in a cycle of trial and error. And, if we don't find the root cause of our health issues, we may continue to feel worse.
Leslie Parran joins KnoWEwell's Chief Health Officer, Dr. Tom O'Bryan to discuss how you can be your own health detective from your own home to find hidden imbalances in your metabolism through functional lab testing. 
In this program, you will learn:
The role of a Functional Diagnostic Nutrition Practitioner

The process Functional Diagnostic Nutrition Practitioners use to help clients understand imbalances in their body systems

How in-home functional lab testing versus random testing improves your ability to accurately identify symptoms and healing solutions

How to rebalance your body so that it works the way it's supposed to
KnoWEwell, P.B.C. 
KnoWEwell is the global Regenerative Whole HealthTM (RWH) benefits and services company. An award-winning, woman majority-owned, B Certified pending corporation, and 1% for the Planet member.
We operate KnoWEwell.com, the one online destination for today's trusted RWH knowledge, resources, and ecosystem collaborating to inspire and empower individuals to prevent harm, address chronic disease, and achieve WELLthier LivingTM. 
We are on a mission to transform healthcare. We share knowledge and healing success stories, offer access to screened, verified and background-checked RWH practitioners, provide expert-led and peer-reviewed content and evidence-based resources, create meaningful connections, and help today's practitioners, and mission-aligned nonprofits and businesses prosper.