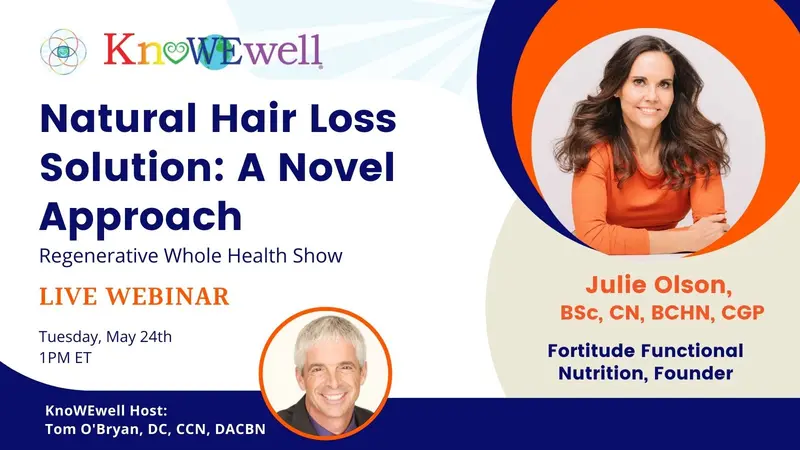 Regenerative Whole Health Show: Natural Hair Loss Solution - A Novel Approach

Hair loss, also known as alopecia, affects millions of people and can impact the mood and well-being of those who experience it. Hair loss treatments can be costly and ineffective, further exacerbating the problem. Julie Olson, triple certified evidence-based nutrition expert specializing in female hair loss, gut health and gluten issues, joins Dr. Tom O'Bryan, KnoWEwell's Chief Health Officer, founder of theDr.com, and a recognized expert on autoimmunity, to discuss the surprising key link between the gut microbiome and hair loss. 
In this program you will learn:
Why it's important to determine your hair loss type(s) and to address it ASAP
The role of genetics
The enormous nutrient needs of the scalp hair follicle microbiome 
Top inflammatory and hormonal triggers
5R-Phased Functional Approach for Natural Hair Restoration
KnoWEwell.com
KnoWEwell operates the private and secure Regenerative Whole Health Hub – the all-in-one, global, trusted online health and well-being solution – bridging the knowledge, access, and insurance gaps. Centralizing knowledge, education, and evidence-based resources. Connecting the ecosystem to collaboratively help individuals prevent harm, address the root causes of disease, and achieve WELLthier Living™!
Did you know you can curate your own learning library?
Among our plethora of membership benefits, you can create your own library! With a KnoWEwell Pathfinder membership, you get access to KnoWEwell's Education Center with 50+ (and growing) educational programs from today's top thought leaders and experts. Learn how to prevent and address the root causes of chronic disease. Keep track of the programs you have already viewed and watch them anytime you or your family need help. Join today, apply code BEWELL20 and receive 20% off your Pathfinder membership (or any other membership plan). That's just $8 a month to get started on your journey to achieve WELLthier Living – Happy. Healthy. Abundant. Purpose-Filled!