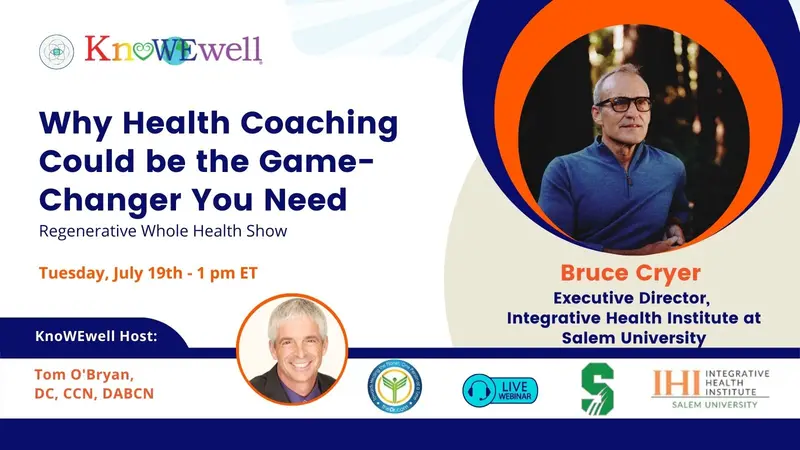 Regenerative Whole Health Show: Why Health Coaching Could be the Game-Changer You Need

With the growing need for long-term support for individuals dealing with complex chronic health conditions, health coaching is playing an increasingly important role in filling a critical healthcare gap.
Health coaching uses evidence-based information and clinical strategies to safely guide and empower clients to adopt and sustain healthy lifestyle behaviors that prevent, mitigate and even reverse chronic diseases. It can be a powerful tool because it gives people the confidence, knowledge, and skills to become active participants in their own care and achieve their self-identified health goals.
Bruce Cryer, Executive Director of the Integrative Health Institute at Salem University joins KnoWEwell's Chief Health Officer, Tom O'Bryan, to discuss the rise of health coaching in today's healthcare arena.
In this program you will learn:
What is health coaching?

Why there is an increasing need and demand for health coaching

Why health coaching is important to the future of healthcare

How health coaches help navigate traditional and integrative medical approaches for optimal outcomes
KnoWEwell.com
KnoWEwell operates the private and secure Regenerative Whole Health Hub – the all-in-one, global, trusted online health and well-being solution – bridging the knowledge, access, and insurance gaps. Centralizing knowledge, education, and evidence-based resources. Connecting the ecosystem to collaboratively help individuals prevent harm, address the root causes of disease, and achieve WELLthier Living™!
Did you know you can curate your own learning library?
Among our plethora of membership benefits, you can create your own library! With a KnoWEwell Pathfinder membership, you get access to KnoWEwell's Education Center with 50+ (and growing) educational programs from today's top thought leaders and experts. Learn how to prevent and address the root causes of chronic disease. Keep track of the programs you have already viewed and watch them anytime you or your family need help. Join today, apply code BEWELL20 and receive 20% off your Pathfinder membership (or any other membership plan). That's just $8 a month to get started on your journey to achieve WELLthier Living – Happy. Healthy. Abundant. Purpose-Filled!