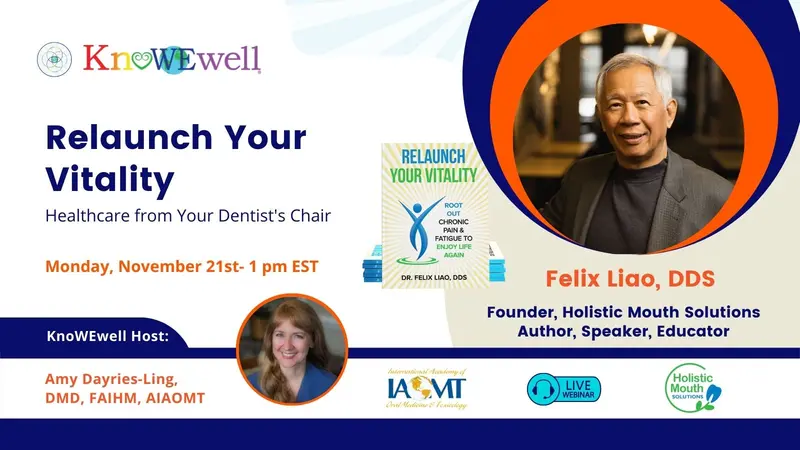 Relaunch Your Vitality

Are you locked in a prison of nagging pain and unending fatigue? Your mouth holds the key to your freedom.
Dr. Felix Liao, DDS and best-selling author, explains how you can find out if you have an Impaired Mouth, whose structure brings on pain and fatigue, and how to develop a Holistic Mouth that supports your airway and alignment in ways that can reduce pain and fatigue.
Impaired Mouth Syndrome is a wide-ranging set of medical, dental, and mood symptoms. But as of 2022, Impaired Mouth Syndrome is not yet on the radar of most doctors and dentists. That's why pain treatment frequently relapses, fatigue persists, and the face lacks luster.
In this program, you will learn:
What is Impaired Mouth Syndrome?

Consequences from pulling teeth on your airway and therefore your total health

Healthy Eating

How to start thriving
KnoWEwell.com
KnoWEwell operates the private and secure Regenerative Whole Health® Hub – the all-in-one, global, trusted online health and well-being solution – bridging the knowledge, access, and insurance gaps. Centralizing knowledge, education, and evidence-based resources. Connecting the ecosystem to collaboratively help individuals prevent harm, address the root causes of disease, and achieve WELLthier Living™!
Did you know you can curate your own learning library?
Among our plethora of membership benefits, you can create your own library! With a KnoWEwell Pathfinder membership, you get access to KnoWEwell's Education Center with 50+ (and growing) educational programs from today's top thought leaders and experts. Learn how to prevent and address the root causes of chronic disease. Keep track of the programs you have already viewed and watch them anytime you or your family need help. Join today, apply code BEWELL20 and receive 20% off your Pathfinder membership (or any other membership plan). That's just $8 a month to get started on your journey to achieve WELLthier Living – Happy. Healthy. Abundant. Purpose-Filled!