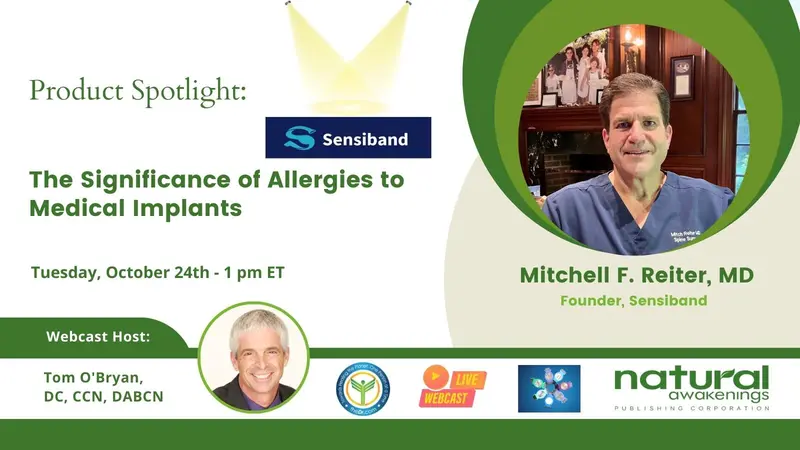 The Significance of Allergies to Medical Implants: Product Spotlight

Allergies and environmental sensitivities are on the rise in the Western world.  We all know that more people than ever are allergic to nuts, gluten, mold, etc. and it turns out that many people are also allergic to metals such as nickel, cobalt, and chrome.  Many people already know this because they react to their jewelry, piercings, or watches.  Despite this fact, doctors place metal implants in patients while seldom testing patients for metal allergies prior to the procedures.  Unfortunately, some patients have poor outcomes after surgery such as chronic pain or swelling at the implant site or general symptoms of inflammation such as fatigue, muscle aches, and malaise. Sensiband is an FDA-registered wearable device that allows patients to test themselves for allergies to the 7 most common implanted metals without the need for a prescription. 
Learning Objectives
Explain why testing for metal allergies is necessary.
Describe the available options for metal allergy testing.
Identify why many doctors have not been thinking about metal allergies and testing their patients prior to implant surgery.
Natural Awakenings Magazine
Each month, Natural Awakenings magazines across the country take a practical look at the latest natural approaches to nutrition, fitness, creative expression, personal growth and sustainable living. We interview national experts we think you'd like to meet. We offer inspiring how-to articles. Each month brings fresh perspective around a timely theme sure to pique your interest.
At the front of each community issue, we present global news and views as a complement to news and events of local interest. We highlight healing arts practitioners in the local area. And we connect you with a wealth of national and local resources mapping out alternate routes to a healthier, happier, longer life. A life that feels good all the way around. Check out Natural Awakenings magazine here.
KnoWEwell.com 
KnoWEwell operates the private and secure Regenerative Whole Health ® Hub – the all-in-one, global, trusted online health and well-being solution – bridging the knowledge, access, and insurance gaps. Centralizing knowledge, education, and evidence-based resources. Connecting the ecosystem to collaboratively help individuals prevent harm, address the root causes of disease, and achieve WELLthier Living™! 
Did you know you can curate your own learning library? 
Among our plethora of membership benefits, you can create your own library! With a KnoWEwell Pathfinder membership, you get access to KnoWEwell's Education Center with 50+ (and growing) educational programs from today's top thought leaders and experts. Learn how to prevent and address the root causes of chronic disease. Keep track of the programs you have already viewed and watch them anytime you or your family need help. 
Join today, get started on your journey to achieve WELLthier Living – Happy. Healthy. Abundant. Purpose-filled!