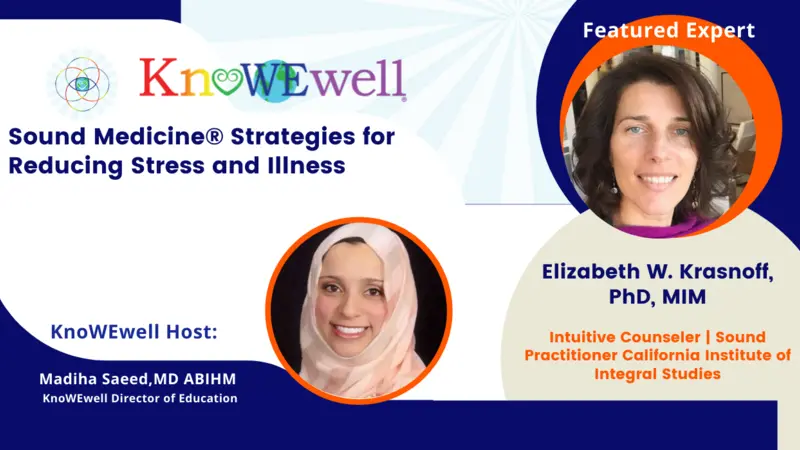 Sound Medicine® Strategies For Reducing Stress And Illness

Elizabeth W. Krasnoff, PhD, MIM is a certified Energy Healer through the Academy of Intuition Medicine ® Master Certification program (MIM), and received her Sound Healing and Therapy Certificate from the Globe Institute. In 2016 she developed Sound Medicine®, the science of using audible vibration to release stored energy with conscious intent towards healing. Sound delivers its "medicine" through its clinically proven properties of unification (resonance) and synchronization (entrainment).
Sound Medicine® can be used for the reduction of stress and illness, the regulation of our emotional and physical body, and the expansion of consciousness. Sound Medicine® is synergistic, working very powerfully with other modalities.
Join Elizabeth Krasnoff and Dr. Madiha Saeed, KnoWEwell's Director of Education and the HolisticMomMD, to learn how sound healing can be used for:
Anxiety, stress or other nervous system imbalances

Creating a state of receptivity to a change you want to make, ie. quit smoking, eat better, rest more

Changing your state of consciousness, ie. become more relaxed, more focused, more restful

Enhancing your daily mindfulness practice
Learn More about Elizabeth Krasnoff and Sound Medicine® here:
Sound Medicine - Home (sound-medicine.com)
KnoWEwell® 
KnoWEwell is the one destination for today's trusted Regenerative Whole Health™ knowledge, resources and community. The global community and marketplace ecosystem collaborating to inspire and empower individuals to achieve WELLthier Living™.
Join the movement as we share knowledge and healing success stories, provide access to evidence-based resources, create meaningful connections and help today's providers, mission-aligned nonprofits and businesses opportunities prosper. 
We are transforming the healthcare we know.