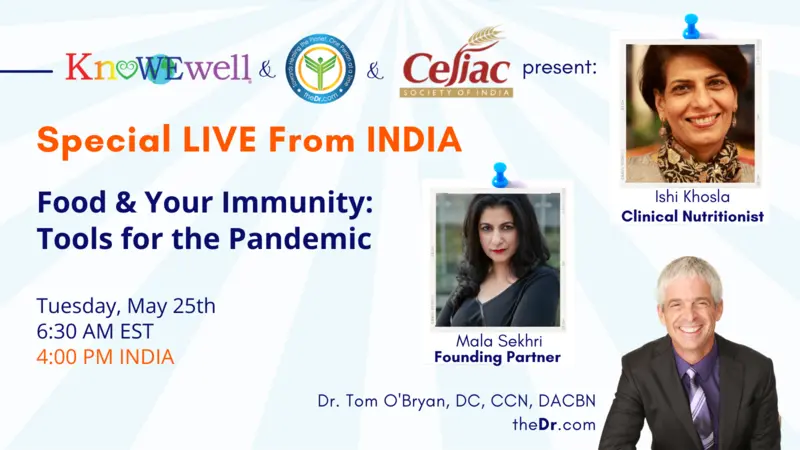 Special LIVE from India: Food & Your Immunity: Tools for the Pandemic

In support of the COVID-19 crises in India and Celiac Awareness Month, KnoWEwell's Chief Health Officer and World Renown Celiac and Gluten Specialist, Dr. Tom O'Bryan will be featuring a very special educational webinar with thought leaders from our Collaborative Partner, The Celiac Society of India.
Join us for this critically important educational program to learn why the food we eat is more important than ever, and how to protect yourself during this pandemic time.
Learning Objectives Include:
What are Celiac Disease and other wheat-related sensitivities and disorders?
How do the foods you eat impact your immunity? Why should you care?
How do you identify if you have a food sensitivity?

IF I do have Celiac Disease (or a Gluten Sensitivity), how do I reduce my risks of getting sick from a virus?

Simple tasty rainbow food substitutes to satisfy your cravings.
Easy low costs tips on what to eat to lower your risk of severe COVID-19 impacts, and boost your immune system during this pandemic and beyond.
KnoWEwell, P.B.C.
KnoWEwell is the global Regenerative Whole Health (RWH) benefits and services company. An award-winning, woman majority-owned, B Certified pending corporation and 1% for the Planet member.
We operate KnoWEwell.com, the one online destination for today's trusted Regenerative Whole Health knowledge, resources, and ecosystem collaborating to inspire and empower individuals to prevent harm, address chronic diseases and achieve WELLthier Living. 
We are on a mission to transform healthcare, as we share knowledge and healing success stories, provide access to screened, verified and background-checked RWH practitioners, as well as expert-led and peer-reviewed content, evidence-based resources, create meaningful connections, and help today's providers, mission-aligned nonprofits, and businesses prosper.