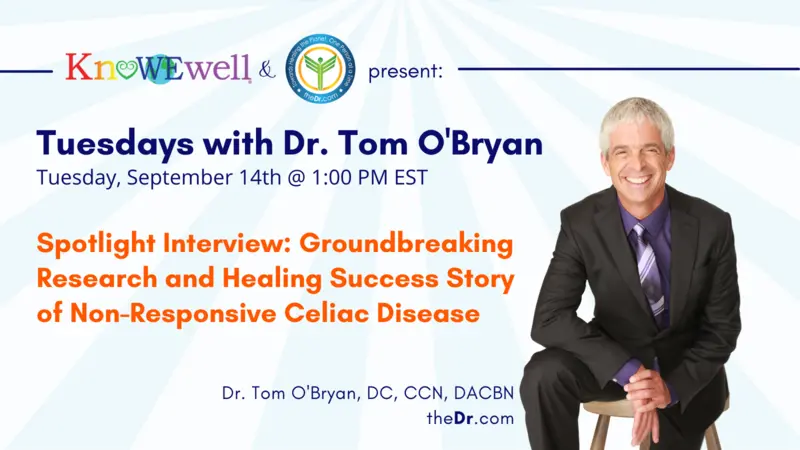 Spotlight Interview: Groundbreaking Research and Healing Success Story of Non-Responsive Celiac Disease

Join us for this very special interview with KnoWEwell's Chief Health Officer and autoimmunity expert, Dr. Tom O'Bryan, who will discuss his groundbreaking case study that was published in the International Journal of Celiac Disease. Dr. O'Bryan, DC, CCN, DABCN, is the founder of theDr.com, author, and visionary behind "The Gluten Summit – A Grain of Truth," one of the first online summits to bring together the world's experts on the connection of gluten to diseases and disorders, affecting people of all ages.
Recently, Dr. O'Bryan was recognized for completely reversing a patient with non-responsive celiac disease using a unique functional medicine approach in conjunction with a gluten-free diet. In this interview, Dr. O'Bryan will share insights into his unique functional medicine approach, which he used to treat a 16-year-old boy diagnosed with non-responsive celiac disease, dermatitis herpetiformis, short stature, and failure to thrive. This wonderful healing success story inspires hope for the millions suffering from the complexities of Celiac Disease and other wheat-related disorders.
KnoWEwell, P.B.C.
KnoWEwell is the global Regenerative Whole Health (RWH) benefits and services company. An award-winning, woman majority-owned, B Certified pending corporation and 1% for the Planet member.
We operate KnoWEwell.com, the one online destination for today's trusted Regenerative Whole Health knowledge, resources, and ecosystem collaborating to inspire and empower individuals to prevent harm, address chronic diseases and achieve WELLthier Living. 
We are on a mission to transform healthcare, as we share knowledge and healing success stories, provide access to screened, verified and background-checked RWH practitioners, as well as expert-led and peer-reviewed content, evidence-based resources, create meaningful connections, and help today's providers, mission-aligned nonprofits, and businesses prosper.