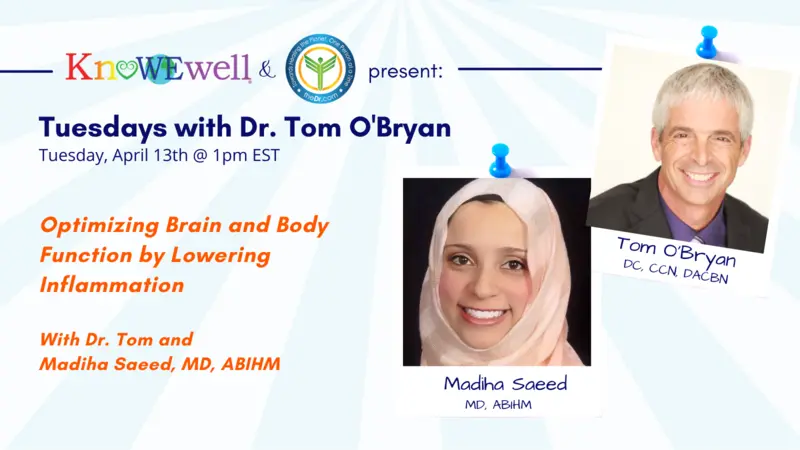 Tuesdays with Dr. Tom: Optimizing Brain and Body Function by Lowering Inflammation

Join KnoWEwell's Chief Health Officer, Dr. Tom O'Bryan, and our Director of Education, Madiha Saeed, MD, ABIHM, of HolisticMomMD, for an educational program on optimizing brain and body function by lowering inflammation. Dr. Saeed will identify the key drivers of inflammation and the causes of many of the chronic diseases that 6 out of 10 adults suffer from today, and share low and no-cost lifestyle choices, as well as nutritional tips and therapies to help reduce the inflammation.
The learning objectives include:
The rise of mental health and chronic conditions 

How the brain functions  

What you don't know about Inflammation, the cornerstone of brain disease

The startling role of sugar, gluten and carbs in brain inflammation

Lifestyle choices and nutritional tips to lower inflammation and optimize brain and body function

Supplements, Homeopathy, Acupressure and Aromatherapy to help reduce the inflammation 
KnoWEwell® 
KnoWEwell is the one destination for today's trusted Regenerative Whole Health™ knowledge, resources and community. The global community and marketplace ecosystem collaborating to inspire and empower individuals to achieve WELLthier Living™.
Join the movement as we share knowledge and healing success stories, provide access to evidence-based resources, create meaningful connections and help today's providers, mission-aligned nonprofits and businesses opportunities prosper. 
We are transforming the healthcare we know.