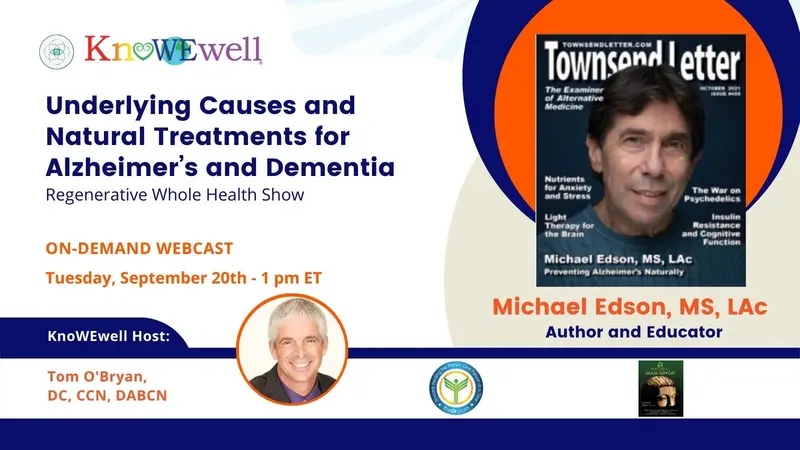 Underlying Causes and Natural Treatments for Alzheimer's and Dementia

According to Michael Edson "the brain is connected to the health of the whole body, so when one looks at brain health, we also have to look at many other variables that contribute both to its healthy function as well as its decline. Medications may help in the short-term, but single solutions are not going to bring overall positive results without evaluating the complex relationship of the whole body to the brain." 
Michael Edson, MS, LAc,  president of Natural Eye Care, podcast host, author of "Natural Brain Support: Your Guide to Preventing and Treating Alzheimer's, dementia, and Other Related Diseases Naturally" and recently published in the Townsend Letter, joins KnoWEwell's Chief Health Officer, Dr. Tom O'Bryan of theDr.com, to discuss how to prevent and naturally treat conditions such as Alzheimer's, Dementia, and other related diseases based on the contributing and causative factors from over 3,200 peer-reviewed research studies.  
In this program, you will learn:
What is Alzheimer's Disease (AD)

Multisystem Neurodegeneration Breakdown

Contributing Causes of AD

Traditional Approach

Essential Nutrients

Diet and Exercise

Chinese Medicine

AD and Eye Conditions

Complementary Care Treatment Strategies

Future Treatments
KnoWEwell.com
KnoWEwell operates the private and secure Regenerative Whole Health Hub – the all-in-one, global, trusted online health and well-being solution – bridging the knowledge, access, and insurance gaps. Centralizing knowledge, education, and evidence-based resources. Connecting the ecosystem to collaboratively help individuals prevent harm, address the root causes of disease, and achieve WELLthier Living™!
Did you know you can curate your own learning library?
Among our plethora of membership benefits, you can create your own library! With a KnoWEwell Pathfinder membership, you get access to KnoWEwell's Education Center with 50+ (and growing) educational programs from today's top thought leaders and experts. Learn how to prevent and address the root causes of chronic disease. Keep track of the programs you have already viewed and watch them anytime you or your family need help. Join today, apply code BEWELL20 and receive 20% off your Pathfinder membership (or any other membership plan). That's just $8 a month to get started on your journey to achieve WELLthier Living – Happy. Healthy. Abundant. Purpose-Filled!