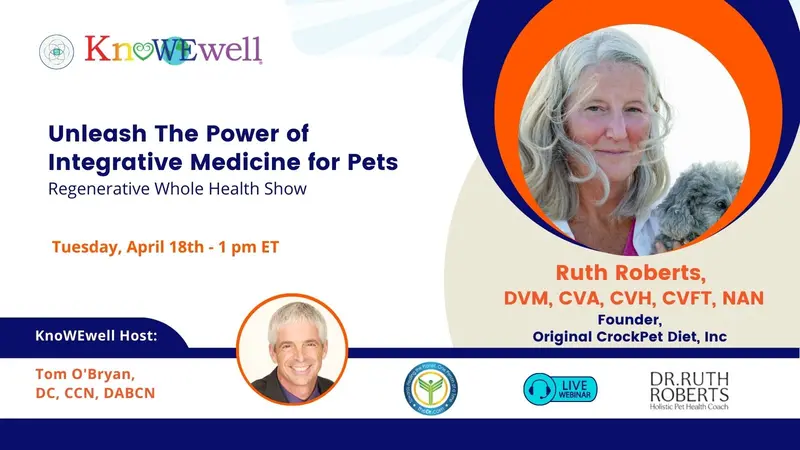 Unleash the Power of Integrative Medicine for Pets

Integrative medicine for pets involves the integration of conventional veterinary medicine, such as pharmaceuticals and surgery, with alternative therapies like acupuncture, herbal medicine, and dietary therapy. The goal of integrative medicine is to provide a more holistic and personalized approach to pet care that addresses the underlying causes of illness and promotes overall health and well-being.
Dr. Ruth Roberts will discuss how to unleash the power of integrative medicine for pets by using a combination of conventional and complementary therapies to treat and manage various health conditions in pets.
In this program, you will learn:
Why our pets are developing cancer and chronic disease at an alarming rate
Why the toxin level of pets is up to 96% greater than people
The best way to feed dogs and cats
The leaky gut syndrome
Dr.RuthRoberts.com
Dr. Ruth Roberts offers holistic pet care, that focuses on the overall health of your pet, including mental, behavioral, social, and physical aspects. As opposed to traditional medicine that treats only the symptoms, holistic veterinary care constitutes treatment of the "entire being" of your pet. Besides prescription medicines, holistic care consists of alternative therapies such as, acupuncture, diet and lifestyle, massages, herbal treatments, and other options. The treatment modules can vary from doctor to doctor and also largely depend on the health condition of your pet.
KnoWEwell.com
KnoWEwell operates the private and secure Regenerative Whole Health Hub – the all-in-one, global, trusted online health and well-being solution – bridging the knowledge, access, and insurance gaps. Centralizing knowledge, education, and evidence-based resources. Connecting the ecosystem to collaboratively help individuals prevent harm, address the root causes of disease, and achieve WELLthier Living™!
Did you know you can curate your own learning library?
Among our plethora of membership benefits, you can create your own library! With a KnoWEwell Pathfinder membership, you get access to KnoWEwell's Education Center with 50+ (and growing) educational programs from today's top thought leaders and experts. Learn how to prevent and address the root causes of chronic disease. Keep track of the programs you have already viewed and watch them anytime you or your family need help. Join today, apply code BEWELL20 and receive 20% off your Pathfinder membership (or any other membership plan). That's just $8 a month to get started on your journey to achieve WELLthier Living – Happy. Healthy. Abundant. Purpose-Filled!