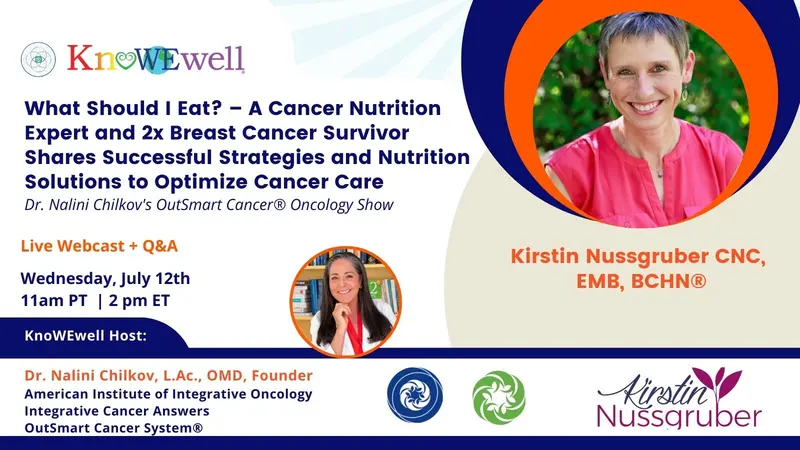 What Should I Eat? – A Cancer Nutrition Expert and 2x Breast Cancer Survivor Shares Successful Strategies and Nutrition Solutions to Optimize Cancer Care

Join Dr. Nalini Chilkov on her monthly OutSmart Cancer® Oncology Show: What Should I Eat? Cancer expert Kirstin Nussgruber shares successful strategies and nutrition solutions to optimize cancer care. Learn how to navigate through the maze of confusing and contradictory cancer diet advice.
Many patients struggle and can feel defeated. Many patients give up and worry that they may feed their cancer with their food choices. 
Cancer patients have many questions:
Which nutrition approach is best for me, or for this phase of my cancer journey?
Should a specific standardized cancer diet be followed by everyone?
Does personalized cancer care include a personalized cancer diet?
 What are the common challenges and struggles cancer patients face while trying to make changes AND deal with cancer and cancer treatments?
Nutrition solutions to optimize the health of cancer patients and survivors include:
Including specific cancer-fighting nutrients and cancer superfoods
Reducing oxidative stress and inflammation
Improving the overall quality of life
Insuring adequate calories and nutrients 
Supporting solutions for debilitating and lingering treatment side effects
Addressing specific issues such as nutrient depletion and loss of muscle mass
Nussgruber shares common strategies for guiding patients at every stage of their cancer journey.
Learning Objectives / Takeaways
Identify key components of a nutrition plan to optimize patients' cancer care.
Support patients to make informed and educated decisions when preparing meals and going shopping.
Learn practical tools to help patients overcome common struggles and become successful implementing new food, self-care, and lifestyle changes.
KnoWEwell.com 
KnoWEwell operates the private and secure Regenerative Whole Health Hub – the all-in-one, global, trusted online health and well-being solution – bridging the knowledge, access, and insurance gaps. Centralizing knowledge, education, and evidence-based resources. Connecting the ecosystem to collaboratively help individuals prevent harm, address the root causes of disease, and achieve WELLthier Living™! 
Did you know you can curate your own learning library? 
Among our plethora of membership benefits, you can create your own library! With a KnoWEwell Pathfinder membership, you get access to KnoWEwell's Education Center with 50+ (and growing) educational programs from today's top thought leaders and experts. Learn how to prevent and address the root causes of chronic disease. Keep track of the programs you have already viewed and watch them anytime you or your family need help. Join today, apply code BEWELL20 and receive 20% off your Pathfinder membership (or any other membership plan). That's just $8 a month to get started on your journey to achieve WELLthier Living – Happy. Healthy. Abundant. Purpose-Filled!