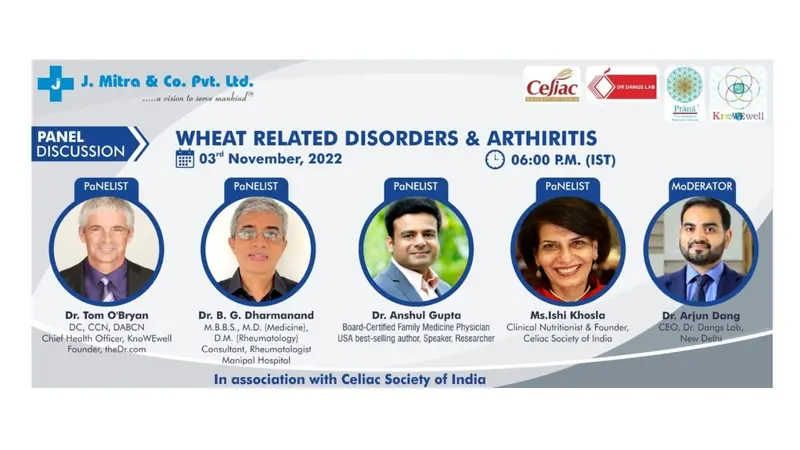 Wheat Related Disorders and Arthritis

In the fourth edition of our 12-part series, The Celiac Society of India, in partnership with KnoWEwell, J Mitra, and Prana, bring you international experts to throw light on how chronic pain can be treated through your gut.
In this session, we attempt to get a better understanding of Autoimmune Rheumatic conditions, their root causes and other important risk factors. We also explore other integrated life style approaches.
In this program you will learn: 
If my body is not working the way I want it to, is there a chronic inflammatory situation going on?

Is there anything in my lifestyle contributing to my chronic pain? 

Can chronic pain conditions be reversed by understanding trigger foods? 
Bonus gifts for registrants:
Each registrant will receive a membership in the Celiac Society of India and complimentary membership in KnoWEwell's Regenerative Whole Health® Hub:
Individuals:    Learn. Engage. Connect. Heal. with an annual Explorer Health Benefits membership ($60 value) 
Providers:      Educate. Engage. Connect. Prosper. with a Basic membership ($300 value).
Panelists, Moderators, and Organizations:
B. G. Dharmanand, MD, MBBS, DM
Dr. Dharmanand is a well known senior consultant in Rheumatology from Bangalore. He started one of the first departments of Rheumatology at Manipal hospital. He joined CRICR (ChanRe Rheumatology & Immunology Center & Research) in 2007 as a Director and a Consultant Rheumatologist. Dr Dharmanand had authored chapters in text books and several articles in national journals. Dr. Dharmanand has specialized in the following fields: all forms of Arthritis, multi-system autoimmune diseases, Osteoporosis, and Fibromyalgia and Musculoskeletal medicine.
Anshull Gupta, MD, IFMCP, FAIHM 
Dr. Gupta is a best-selling author, speaker, researcher. He is a Board-Certified Family Medicine Physician from USA, with advanced certification in Functional Medicine, Peptide therapy, and also Fellowship trained in Integrative Medicine. Dr. Gupta has worked at the prestigious Cleveland Clinic Department of Functional Medicine alongside Dr. Mark Hyman. He has helped thousands of patients to reverse their health issues by using the concepts of functional medicine. His dedication towards his patients was recognized when he was awarded Readers Choice, Best Doctor in Northern Neck Area in USA.
Ishi Kosla, CN
Ms. Ishi Kosla is a columnist, TV and radio speaker, a TedEx speaker, researcher, and author focusing on the effect food has on the body. She is a clinical nutritionist at the Center for Dietary Counseling in Delhi. Passionate about nutrition and a strong believer in the power of foods, she spearheaded the first of its kind health food company in India, the business produces and retails health foods and operates Health Cafe's. Ms. Kohsla also founded The Celiac Society of India to spread awareness about wheat-related disorders in India.  
Tom O'Bryan, DC, CCN, DACBN
Dr. Tom is KnoWEwell's Chief Health Officer, an internationally recognized expert on gluten, best-selling author, and speaker focused on food sensitivities, environmental toxins, and the development of autoimmune diseases. He is a chiropractic doctor, a certified clinical nutritionist, a diplomate of the American Clinical Board of Nutrition, a teacher, and the visionary behind the first online Gluten Summit. He has trained and certified tens of thousands of practitioners around the world in the advanced understanding of the impact of wheat sensitivity and the development of individual autoimmune diseases. He is also the founder of theDr.com.
J. Mitra & Co. Pvt. Ltd. 
Incorporated in 1969 with a vision to serve mankind, J. Mitra & Co. Pvt. Ltd. started this venture to preserve human lives, by promoting healthcare through technology and innovation.
J. Mitra & Co. Pvt. Ltd, is the pioneer in manufacturing and marketing of IVD test kits in India. It is the tradition of quality and seriousness of purpose that has led to a sterling and harmonious growth of the company and achieved the recognition that extended far beyond its frontiers.
J. Mitra & Co. Pvt Ltd became the first Indian Company to get drug manufacturing licenses for critical tests like HIV, HBV, and HCV in rapid and ELISA formats in India. It introduced the technology of differential detection of HIV 1 and HIV 2 in a single rapid kit format, a product that still is the market leader after two decades. J. Mitra identifies its success with its customer's success and commitment to quality.
The company being fully conscious of its responsibility has adopted best industry practices. Its large-scale automation not only improves the quality of kits but also meets the bulk requirements of the customers.
​Celiac Society of India
The Celiac Society of India (CSI), the first of its kind non-profit organization, has made it its mission to create awareness on early diagnosis and management of Celiac Disease.
Founded by Ishi Khosla, a senior clinical nutritionist in May 2006, the Society was incorporated under the patronship of Late Prof. M.K. Bhan, Secretary Department of Biotechnology, Ministry of Science & Technology, and formerly a professor at AIIMS in the Department of Pediatrics.
The CSI brings together eminent experts in the field of medicine, education, nutrition, and the food industry.  With the increasing prevalence of Celiac Disease and wheat-related disorders amongst Indians in recent years, the Celiac Society of India has launched the Beat Celiac Program.
theDr.com
The vast majority of diseases of the last few hundred years have been reduced or eliminated with tremendous progress in medical research. In their place however, other health hurdles have exploded, like autoimmune disease, metabolic disease, blood sugar issues, food sensitivities, fatigue, brain fog – and more. Add to this a long list of advanced lifestyle diseases, like obesity, diabetes, cardiovascular disease, Alzheimer's, etc. 
To address lifestyle diseases requires a different type of thinking. Arresting the progression of lifestyle diseases and reversing many health hurdles and symptoms is an inside job – healing from the inside out, one cell at a time. We are here at theDr.com and are here to help. 
KnoWEwell.com – Regenerative Whole Health® Hub
KnoWEwell is the all-in-one, global, trusted online solution for health and well-being. Bridging the knowledge, access, and insurance gaps. Centralizing knowledge, education, and evidence-based resources. Connecting the ecosystem to collaboratively help individuals prevent harm, address the root causes of disease, and achieve WELLthier Living™!