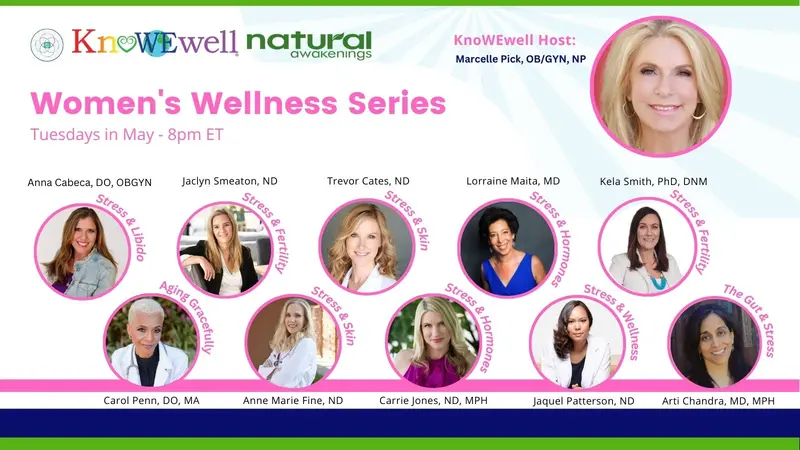 Women's Wellness Series - Overcoming Stress: How to Balance it All
Women are more likely than men to report symptoms of stress including headaches, digestive issues, fatigue and overwhelm. Learning to cope with stress is important for both our mental and physical wellbeing.
This Tuesday night series provides a blueprint on "Overcoming Stress: How to Balance it All". You will learn about stress and its impact on: Hormones, Thyroid, Fertility, Libido, Skincare, Aging, Sleep and Mindset.
The line-up of presenters are among the most influential and renowned in the realm of integrative and functional medicine with expertise in women's health issues. Learn from:
Anna Cabeca

, known as "The Girlfriend Doctor," board-certified obstetrician and gynecologist, and author of The Hormone Fix

Trevor Cates

, naturopathic doctor, author of Clean Skin From Within and founder of Hello Fertility

Arti Chandra,

functional and integrative physician, clinical advisor to Big Bold Health, Inc. and Co-Chief Medical Officer of KnoWEwell

Anne Marie Fine

, naturopathic doctor, author of Cracking the Beauty Code and 

Medical Director of Environmental Medicine Education International, LLC

Carrie Jones

, functional medicine and hormone doctor and 

Head of Medical Education at Rupa Health

Jaquel Patterson

, naturopathic physician, bestselling author, success coach, and KnoWEwell Co-Chief Operating Officer

Carol A. Penn

, board-certified in family and obesity medicine, mindset coach and author of 

Meditation In a Time of Madness

Michelle Sands

, naturopathic doctor and author of Hormone Harmony Over 35

Jaclyn Smeaton

, naturopathic doctor, hormone health and reproductive medicine, and founder of Hello Fertility

Kela Smith

, holistic-integrative fertility and hormone doctor and f

ounder of The Hormone Puzzle Society

Jyl Steinbeck

, known as

"America's Healthiest Mom," 

personal trainer, lifestyle expert and

Executive Director of Shape Up US
Learn about each topic area and walk away with tangible next steps to use in your life TODAY along with guidance on how to masterfully apply these new skills.
KnoWEwell Members:
Register here for FREE
Not a KnoWEwell Member?
Learn more and sign up here.
(more than a $300 value)