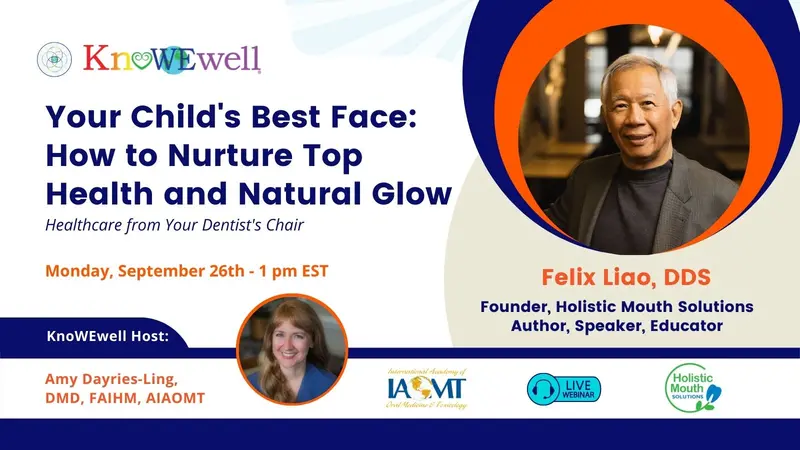 Your Child's Best Face: How to Nurture Top Health and Natural Glow

Today, many children struggle with and receive treatment for symptoms such as ADHD, bedwetting, night terrors, restless sleep, teeth grinding, ear infections, digestive issues, academic struggles, and behavioral issues. These symptoms, and many others, share a common causal pathway: poor breathing while sleeping. In adults, we call this Obstructive Sleep Apnea, but in children, it is referred to as Sleep Disordered Breathing.
Nearly all children in industrialized countries exhibit underdeveloped jaws. As a result, we see crowded teeth and mouth breathing in so many children. In his book, "Your Child's Best Face", Dr. Felix Liao, DDS and Founder of Holistic Mouth Solutions, connects the epidemic of compromised airways in children with the symptoms mentioned above.
Dr. Liao joins Dr. Amy Dayries-Ling, DMD, FAIHM, AIAOMT for her monthly webcast series, Healthcare from Your Dentist's Chair, to discuss the crucial connections between children's orofacial development and their overall health and longevity.
In this program, you will:
Learn how parents can nurture their child for a fuller face and space for teeth to straighten

Understand the role of an Airway Mouth Doctor (AMD)

Gain new awareness to the possibilities for your child through improving their airway and sleep while creating vibrant health naturally
KnoWEwell.com
KnoWEwell operates the private and secure Regenerative Whole Health Hub – the all-in-one, global, trusted online health and well-being solution – bridging the knowledge, access, and insurance gaps. Centralizing knowledge, education, and evidence-based resources. Connecting the ecosystem to collaboratively help individuals prevent harm, address the root causes of disease, and achieve WELLthier Living™!
Did you know you can curate your own learning library?
Among our plethora of membership benefits, you can create your own library! With a KnoWEwell Pathfinder membership, you get access to KnoWEwell's Education Center with 50+ (and growing) educational programs from today's top thought leaders and experts. Learn how to prevent and address the root causes of chronic disease. Keep track of the programs you have already viewed and watch them anytime you or your family need help. Join today, apply code BEWELL20 and receive 20% off your Pathfinder membership (or any other membership plan). That's just $8 a month to get started on your journey to achieve WELLthier Living – Happy. Healthy. Abundant. Purpose-Filled!