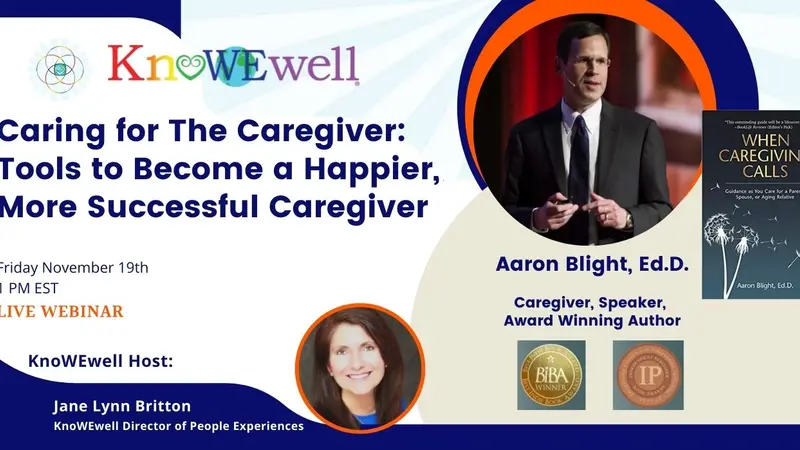 Caring for The Caregiver: Tools to Become a Happier, More Successful Caregiver

Caregivers are usually so busy with the tasks of caregiving that they rarely reflect upon the significance of their activities, including how caring changes their identity: their view of self, their relationships with others, and their place in society. Dr. Aaron Blight will lead us through a thoughtful and inspiring discussion based upon research to explain caregiving as a phenomenon of social science. In doing so, Dr. Blight will explain how to build the foundation for becoming more resilient and successful as you continue supporting your loved ones.  
During this program, you will:
Understand that caregiving is a phenomenon of social science
Learn the framework for understanding the social dimensions of care and the factors that help caregivers be resilient
Learn to more effectively advise, guide, and support older adults and family caregivers
Learn to understand, support and better manage employees who are caregivers, as well as skilled caregiving practitioners and aides 
KnoWEwell, P.B.C.  
KnoWEwell is the global Regenerative Whole HealthTM (RWH) benefits and services company. An award-winning, woman majority-owned, B Certified pending corporation, and 1% for the Planet member. 
We operate KnoWEwell.com, the one online destination for today's trusted RWH knowledge, resources, and ecosystem collaborating to inspire and empower individuals to prevent harm, address chronic disease, and achieve WELLthier LivingTM.  
We are on a mission to transform healthcare. We share knowledge and healing success stories, offer access to screened, verified and background-checked RWH practitioners, provide expert-led and peer-reviewed content and evidence-based resources, create meaningful connections, and help today's practitioners, and mission-aligned nonprofits and businesses prosper.