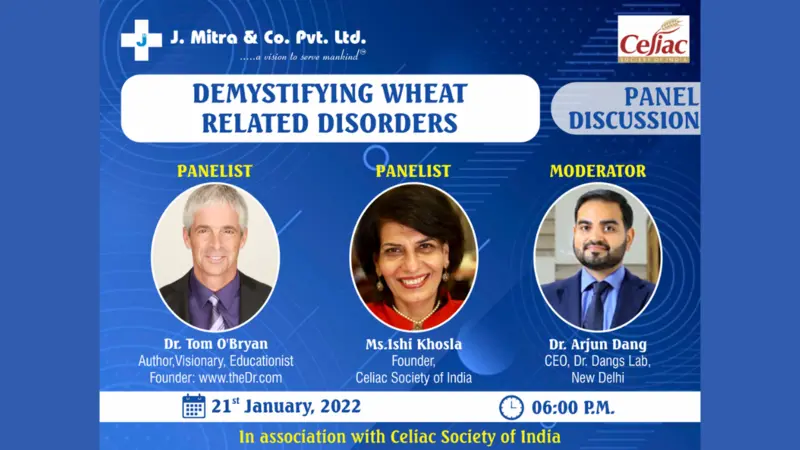 Demystifying Wheat-Related Disorders 7:30am ET / 6:00pm IST

According to theDr.com, celiac disease is "an autoimmune condition that results in tissue damage in the small intestine" and it's one of "several gluten-related disorders." Common symptoms include anemia, fatigue, nausea, joint pain, thinning hair (and high forehead), dull skin complexion, skin rashes, and gas and bloating.  
KnoWEwell's Chief Health Officer, Dr. Tom O'Bryan, and Ishi Khosla, founder of Celiac Society of India, join Dr. Arjun Dang in an engaging and informative panel discussion to raise further awareness of celiac disease and wheat-related disorders. Dr. Arjun is the CEO of the highly acclaimed Dr. Dang's Lab, located in Delhi NCR. After completing his MBBS and MD in Pathology, he did a clinical fellowship in liver pathology at King's College Hospital, London.  
In this program, you will learn:  
More about wheat-related disorders  

The connection between wheat-related disorders and autoimmune diseases  
Questions will also be answered in the last fifteen minutes of the program.  
Celiac Society of India
Celiac Society of India, the first of its kind non-profit organization, has made it its mission to create awareness on early diagnosis and management of celiac disease.
Founded by Ishi Khosla, a senior clinical nutritionist, in May 2006, the society was incorporated under the patronship of the late Prof. M.K. Bhan, Secretary Department of Biotechnology, Ministry of Science & Technology, and formerly professor at AIIMS in the Department of Pediatrics.
The society brings together eminent experts in the field of medicine, education, nutrition and the food industry. With the increasing prevalence of Celiac Disease and wheat related disorders amongst Indians in recent years, the Celiac Society of India has launched its Beat Celiac Program.
theDr.com
If you have struggled with your health, despite months or even years of investigation and intervention, you're in the right place.
The vast majority of diseases of the last few hundred years have been reduced or eliminated with the tremendous progress in medical research. In their place however, other health hurdles have exploded, like autoimmune disease, metabolic disease, blood sugar issues, food sensitivities, fatigue, brain fog,  and more. And to this, a long list of advanced lifestyle diseases like obesity, diabetes, cardiovascular disease, Alzheimer's, etc. To address lifestyle diseases requires a different type of thinking. You cannot arrest Alzheimer's disease with medication. You cannot reverse obesity (and all of its complications) with a pill.
Arresting the progression of lifestyle diseases and reversing many health hurdles and symptoms is an inside job – healing from the inside out, one cell at a time.