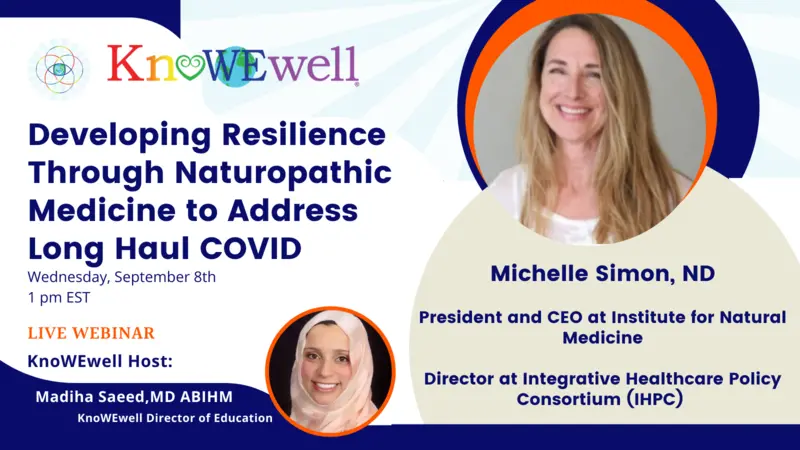 Developing Resilience Through Naturopathic Medicine to Address Long Haul COVID

The pandemic of COVID-19 has focused our global attention on the importance of immune function. Individual abilities to withstand illness are always a topic of interest, but now even more so. We know that those with chronic disease are at greater risk. They are, generally, less resilient.
Dr. Michelle Simon, ND and President and CEO of the Institute for Natural Medicine (INM) will address the following questions with evidence-informed approaches frequently used by naturopathic medicine providers:
What makes us resilient?
Howe can we increase our resilience?
How can we manage our health and our resilience during and beyond the era of COVID-19?  
Dr. Michelle Simon is a licensed naturopathic doctor who is passionate about applying her skills as a solution-oriented, systems thinker to organizations dedicated to improving the quality and delivery of healthcare through greater utilization of integrative medicine and clinical nutrition. She brings a unique background including research and engineering experience, clinical practice, and non-profit leadership to her role as President and CEO of the INM. This 501(c)3 organization educates about and increases access to natural medicine options for consumers. She serves on several advisory boards for corporations and interprofessional associations and was awarded Physician of the Year for the American Association of Naturopathic Physicians in 2019.
KnoWEwell, P.B.C. 
KnoWEwell is the global Regenerative Whole Health (RWH) benefits and services company. An award-winning, woman majority-owned, B Certified pending corporation and 1% for the Planet member. 
We operate KnoWEwell.com, the one online destination for today's trusted Regenerative Whole Health knowledge, resources, and ecosystem collaborating to inspire and empower individuals to prevent harm, address chronic diseases and achieve WELLthier Living.  
We are on a mission to transform healthcare, as we share knowledge and healing success stories, provide access to screened, verified and background-checked RWH practitioners, as well as expert-led and peer-reviewed content, evidence-based resources, create meaningful connections, and help today's providers, mission-aligned nonprofits, and businesses prosper.