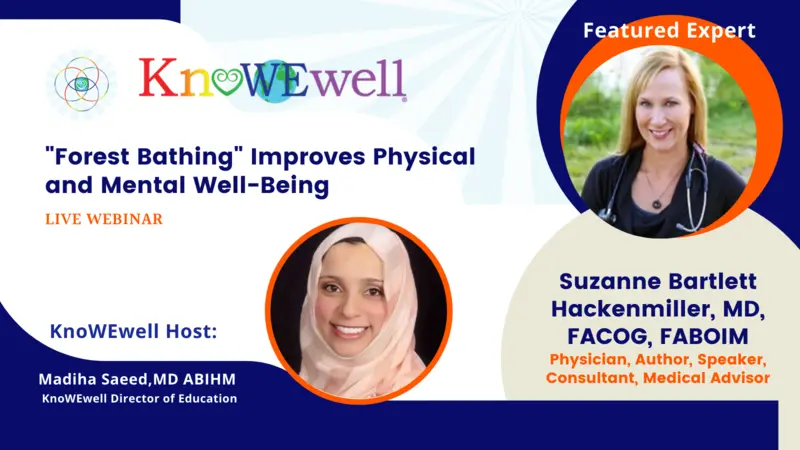 "Forest Bathing" Improves Physical and Mental Well-Being

"Forest bathing" is a Japanese term meaning guided mindful nature practice where participants are invited to explore their natural surroundings via various sensory experiences. Research finds that time spent in nature, in this way, offers health benefits ranging from improved mental wellbeing and memory to reducing cortisol levels, fighting cancer, and improving heart health. 
Join Dr. Suzanne Bartlett-Hackenmiller, Certified Forest Therapy Guide, as she demonstrates how to forest bathe and explains the science and benefits behind this nature therapy.
Dr. Bartlett-Hackenmiller, MD, FACOG, FABOIM, is also the Medical Director of the International Association of Nature and Forest Therapy, and the Medical Director of AllTrails.
KnoWEwell® 
KnoWEwell is the one destination for today's trusted Regenerative Whole Health™ knowledge, resources and community. The global community and marketplace ecosystem collaborating to inspire and empower individuals to achieve WELLthier Living™.
Join the movement as we share knowledge and healing success stories, provide access to evidence-based resources, create meaningful connections and help today's providers, mission-aligned nonprofits and businesses opportunities prosper. 
We are transforming the healthcare we know.