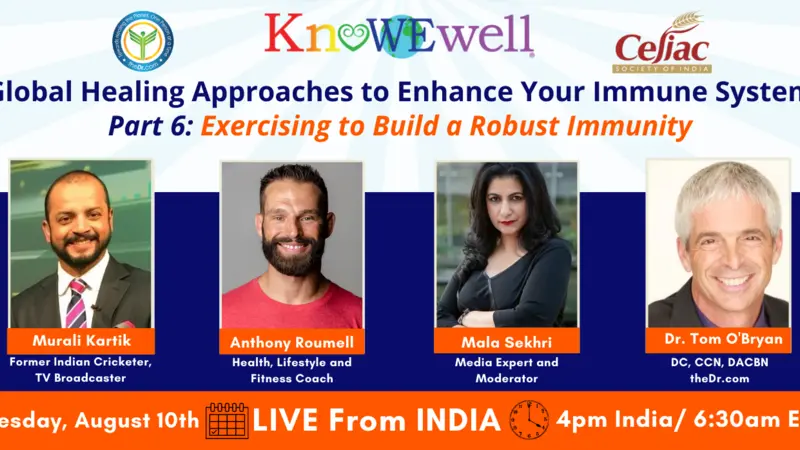 Global Healing Approaches to Enhance Your Immune System Part 6: Exercising to Build a Robust Immunity

For the final part of our 6-part series, we are joined by health and lifestyle fitness and martial arts expert and trainer Anthony Roumell from the Center for Balanced Training, and TV Broadcaster and Former Indian Cricketer, Murali Kartik.
With experience from both athletic, and physical training careers, they will share proven strategies from world-class athletes, like themselves, to help move our bodies towards optimal health and build a robust immune system through exercise and fitness routines.
Anthony and Murali will share tips on:
- The role of exercise for long-term health and vitality
- Simple exercises to boost your immune system
- How to get motivated and moving first thing in the morning
- How much exercise is too much
Tuesday, August 10th
Time: 4:00pm India/ 4:30am CST/ 6:30am EST
Why This Series?
Never in our lifetime have we been more aware of the dangers of a compromised immune system.
Series Description
In this important 6-part series, we look at the most critical aspects of the immune system, and how we can tap into ancient, integrative, mainstream, and cutting-edge practices to make it efficient and enhance its ability to handle day-to-day stresses and disease. In this series, we explore a Regenerative Whole Health ("RWH") approach from top experts around the globe who will help you transform your body's ability to handle disease and give you realistic approaches to protecting yourself and your family. 
LIVE from India and other parts of the world, the series will feature experts such as Dr. Tom O'Bryan, KnoWEwell Chief Health Officer and Founder of theDr.com; Ishi Khosla, Clinical Nutritionist and Founder of the Celiac Society of India; Anthony Roumell, Center for Balanced Training; and a plethora of world authorities in whole health, naturopathy, homeopathy, fitness, mental health, and happiness. 
Dates: Tuesdays beginning July 6th.
July 6th, 13th, 20th, 27th, August 3rd, and 10th
Time: 4:00pm India/ 4:30am CST/ 6:30am EST
Want Access to Parts 1-5 and More?
If you missed parts 1-5, you can access these, download the related resources and tips in the Knowledge Center of KnoWEwell.com, as well more than 40 on-demand educational webinars with leading experts to inspire and empower your Regenerative Whole Health journey, be better informed to make optimal health decisions in collaboration with today's practitioners and help you achieve WELLthier Living!
Register for this webinar and we will send you a complimentary health benefit membership to KnoWEwell.
Anthony Roumell
Anthony Roumell is a certified personal trainer with 14 years or experience running a successful health, fitness and lifestyle coaching business. He completed his studies in exercise science, physiology and nutrition at the University of California at San Diego. Anthony is also a musician, yogi, Competitive Brazilian Jiu-Jitsu martial artist, and avid surfer. He believes that our greatest wealth is our health, and that nutrition is the fundamental foundation for all people to achieve and maintain health and wellness.
Anthony is also the Co-founder of Ground-Based Nutrition -A natural whole foods supplement company that specializes in plant based nutrition. Both the founders have their roots in the San Diego community, and they believe that change starts on the local level. Ground-Based Nutrition supports the San Diego County Childhood Obesity Initiative – a public/private partnership whose mission is to reduce and prevent childhood obesity in San Diego County by creating healthy environments for all children and families through advocacy, education, policy development, and environmental change.
Murali Kartik
Murali Kartik is an Indian cricket commentator and former cricketer part of the national team from 2000 to 2007.
Aside from domestic cricket, Kartik played for Royal Challengers Bangalore in the Indian Premier League and has been in demand in English county cricket as an overseas player, representing Lancashire, Middlesex, Somerset and Surrey. 
Kartik has been part of the IPL commentary team since 2015 and regularly commentates on the Indian national team's home games.
​KnoWEwell, P.B.C.
KnoWEwell is the global Regenerative Whole Health (RWH) benefits and services company. An award-winning, woman majority-owned, B Certified pending corporation and 1% for the Planet member.
We operate KnoWEwell.com, the one online destination for today's trusted Regenerative Whole Health knowledge, resources, and ecosystem collaborating to inspire and empower individuals to prevent harm, address chronic diseases and achieve WELLthier Living. 
We are on a mission to transform healthcare, as we share knowledge and healing success stories, provide access to screened, verified and background-checked RWH practitioners, as well as expert-led and peer-reviewed content, evidence-based resources, create meaningful connections, and help today's providers, mission-aligned nonprofits, and businesses prosper.
​Celiac Society of India
The Celiac Society of India (CSI), is the first of its kind non-profit organization, has made it its mission to create awareness on early diagnosis and management of Celiac Disease.
Founded by Ishi Khosla, a senior clinical nutritionist in May-2006 the society was incorporated under the patronship of Late Prof. M.K. Bhan, Secretary Department of Biotechnology, Ministry of Science & Technology & formerly, professor at AIIMS in the Department of Pediatrics.
The CSI brings together eminent experts in the field of medicine, education, nutrition, and the food industry.  With the increasing prevalence of Celiac Disease and wheat-related disorders amongst Indians in recent years, the Celiac Society of India has launched the Beat Celiac Program.
Dr. Tom O'Bryan, DC, CCN, DACBN
Dr. O'Bryan is KnoWEwell's Chief Health Officer and Founder of theDR.com. He is considered the 'Sherlock Holmes' for chronic disease and metabolic disorders. He is a clinician par excellence in treating chronic disease and metabolic disorders from a Functional Medicine Perspective. 
He holds teaching Faculty positions with the Institute for Functional Medicine and the National University of Health Sciences. He is a Global Leader on Gluten Sensitivity and has trained and certified tens of thousands of practitioners around the world in advanced understanding of the impact of wheat sensitivity and the development of individual autoimmune diseases.
theDr.com
The vast majority of diseases of the last few hundred years have been reduced or eliminated with the tremendous progress in medical research. In their place however, other health hurdles have exploded, like autoimmune disease, metabolic disease, blood sugar issues, food sensitivities, fatigue, brain fog – and more. Add to this a long list of advanced lifestyle diseases, like obesity, diabetes, cardiovascular disease, Alzheimer's, etc. 
To address lifestyle diseases requires a different type of thinking. Arresting the progression of lifestyle diseases and reversing many health hurdles and symptoms is an inside job – healing from the inside out, one cell at a time. We are here at theDr.com are here to help.