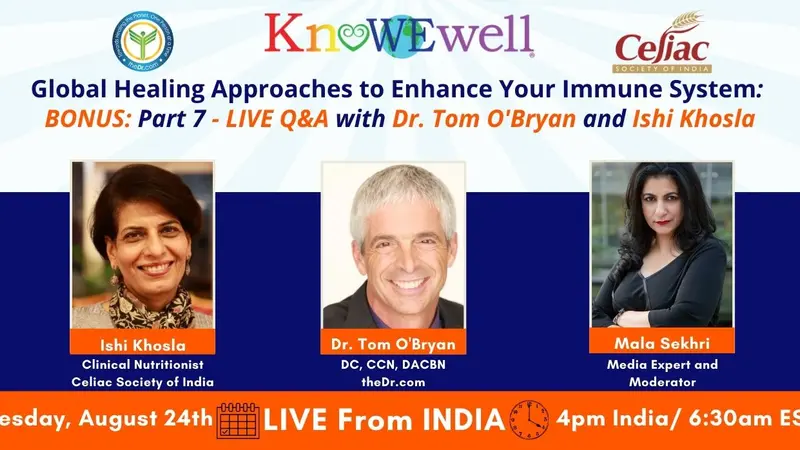 Global Healing Approaches for Enhancing Your Immune System Capabilities - BONUS Part 7 - Live Q&A with Dr. Tom O'Bryan and Ishi Khosla

KNOWEWELL MEMBERS ONLY
So many questions, so little time! By popular demand, join us for a bonus live Q&A with Dr. Tom O'Bryan and Clinical Nutritionist Ishi Khosla. Send us your questions in advance, ask them during our program and they will answer them live, as well as the questions we didn't get to, in our 6-part series.
Tuesday, August 24th
Time: 4:00pm India/ 4:30am CST/ 6:30am EST
Why This Series?
Never in our lifetime have we been more aware of the dangers of a compromised immune system.
Series Description
In this important 6-part series, we look at the most critical aspects of the immune system, and how we can tap into ancient, integrative, mainstream, and cutting-edge practices to make it efficient and enhance its ability to handle day-to-day stresses and disease. In this series, we explore a Regenerative Whole Health ("RWH") approach from top experts around the globe who will help you transform your body's ability to handle disease and give you realistic approaches to protecting yourself and your family. 
LIVE from India and other parts of the world, the series will feature experts such as Dr. Tom O'Bryan, KnoWEwell Chief Health Officer and Founder of theDr.com; Ishi Khosla, Clinical Nutritionist and Founder of the Celiac Society of India; Anthony Roumell, Center for Balanced Training; and a plethora of world authorities in whole health, naturopathy, homeopathy, fitness, mental health, and happiness. 
Want Access to Parts 1-6 and More?
If you missed parts 1-6, you can access these, download the related resources and tips in the Knowledge Center of KnoWEwell.com, as well more than 40 on-demand educational webinars with leading experts to inspire and empower your Regenerative Whole Health journey, be better informed to make optimal health decisions in collaboration with today's practitioners and help you achieve WELLthier Living!
 Not a KnoWEwell Member Yet?
Sign up today and we will send you a complementary explorer membership.

KnoWEwell, P.B.C.
KnoWEwell is the global Regenerative Whole Health (RWH) benefits and services company. An award-winning, woman majority-owned, B Certified pending corporation and 1% for the Planet member.
We operate KnoWEwell.com, the one online destination for today's trusted Regenerative Whole Health knowledge, resources, and ecosystem collaborating to inspire and empower individuals to prevent harm, address chronic diseases and achieve WELLthier Living. 
We are on a mission to transform healthcare, as we share knowledge and healing success stories, provide access to screened, verified and background-checked RWH practitioners, as well as expert-led and peer-reviewed content, evidence-based resources, create meaningful connections, and help today's providers, mission-aligned nonprofits, and businesses prosper.
​Celiac Society of India
The Celiac Society of India (CSI), is the first of its kind non-profit organization, has made it its mission to create awareness on early diagnosis and management of Celiac Disease.
Founded by Ishi Khosla, a senior clinical nutritionist in May-2006 the society was incorporated under the patronship of Late Prof. M.K. Bhan, Secretary Department of Biotechnology, Ministry of Science & Technology & formerly, professor at AIIMS in the Department of Pediatrics.
The CSI brings together eminent experts in the field of medicine, education, nutrition, and the food industry.  With the increasing prevalence of Celiac Disease and wheat-related disorders amongst Indians in recent years, the Celiac Society of India has launched the Beat Celiac Program.
Dr. Tom O'Bryan, DC, CCN, DACBN
Dr. O'Bryan is KnoWEwell's Chief Health Officer and Founder of theDR.com. He is considered the 'Sherlock Holmes' for chronic disease and metabolic disorders. He is a clinician par excellence in treating chronic disease and metabolic disorders from a Functional Medicine Perspective. 
He holds teaching Faculty positions with the Institute for Functional Medicine and the National University of Health Sciences. He is a Global Leader on Gluten Sensitivity and has trained and certified tens of thousands of practitioners around the world in advanced understanding of the impact of wheat sensitivity and the development of individual autoimmune diseases.
theDr.com
The vast majority of diseases of the last few hundred years have been reduced or eliminated with the tremendous progress in medical research. In their place however, other health hurdles have exploded, like autoimmune disease, metabolic disease, blood sugar issues, food sensitivities, fatigue, brain fog – and more. Add to this a long list of advanced lifestyle diseases, like obesity, diabetes, cardiovascular disease, Alzheimer's, etc. 
To address lifestyle diseases requires a different type of thinking. Arresting the progression of lifestyle diseases and reversing many health hurdles and symptoms is an inside job – healing from the inside out, one cell at a time. We are here at theDr.com are here to help. 
.