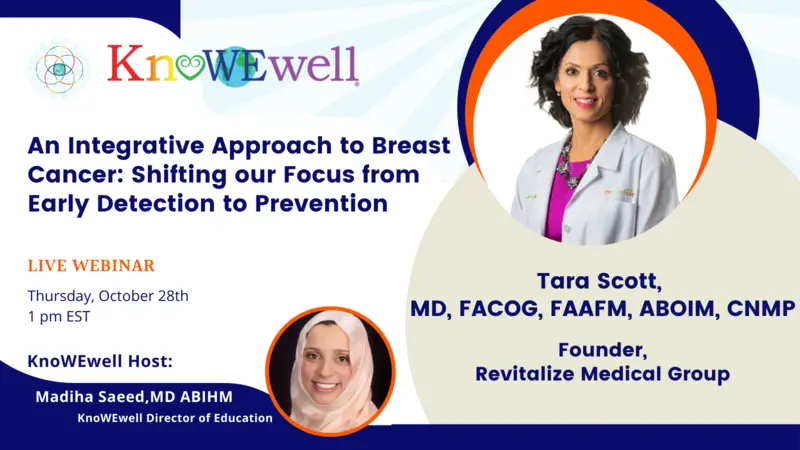 An Integrative Approach to Breast Cancer: Shifting our Focus from Early Detection to Prevention

According to the Centers for Disease Control (CDC), about 255,000 women get breast cancer and 42,000 women die from the disease each year in the United States. In recognition of Breast Cancer Awareness Month, Dr. Tara Scott, the Hormone Guru, will discuss estrogen metabolism, the relationship of hormones (both endogenous and exogenous) to breast cancer, and strategies to reduce occurrence and recurrence.  
With over 25 years of experience and 3 board certifications in OB/GYN, functional medicine and integrative medicine, Dr. Scott has helped thousands of patients struggling with hormone issues, including breast cancer. She is the founder of the Revitalize Medical Group and the Hormone Guru Academy, a course to help patients improve their hormone problems themselves. She has been featured on The List TV, Women's Health, Shape, Newsweek, Parents, and Authority Magazine, and speaks on numerous podcasts. 
Join us on Thursday, October 28th when Dr. Scott joins KnoWEwell's Director of Education and the HolisticMomMD, Dr. Madiha Saeed, to discuss integrative approaches to preventing breast cancer. 
KnoWEwell, P.B.C.
KnoWEwell is the global Regenerative Whole HealthTM (RWH) benefits and services company. An award-winning, woman majority-owned, B Certified pending corporation and 1% for the Planet member.
We operate KnoWEwell.com, the one online destination for today's trusted Regenerative Whole Health knowledge, resources, and ecosystem collaborating to inspire and empower individuals to prevent harm, address chronic diseases, and achieve WELLthier LivingTM. 
We are on a mission to transform healthcare, as we share knowledge and healing success stories, offer access to screened, verified and background-checked RWH practitioners, provide expert-led and peer-reviewed content and evidence-based resources, create meaningful connections, and help today's providers, and mission-aligned nonprofits and businesses prosper.