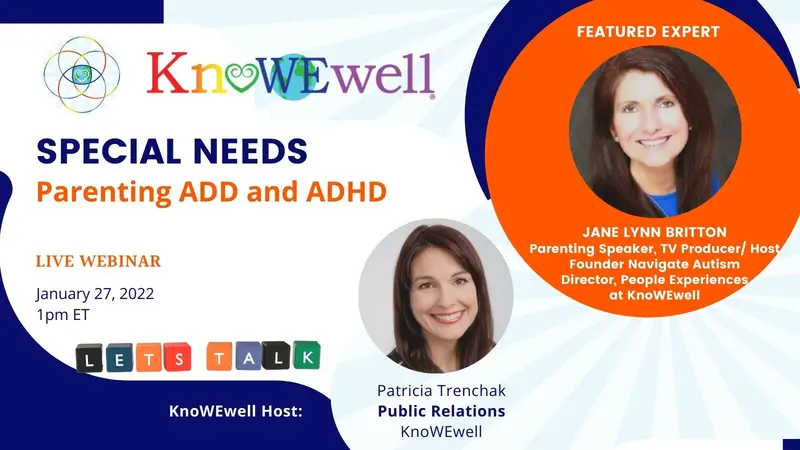 Let's Talk Special Needs: Parenting ADD and ADHD

According to the Centers for Disease Control and Prevention, there are an estimated 6.1 million children in the US diagnosed with attention-deficit/hyperactivity disorder (ADD/ADHD). ADD/ADHD is a neurodevelopmental condition characterized by impaired levels of inattention, hyperactivity, and impulsivity that begin in childhood and often persists into adulthood.
Jane Lynn Britton, Founder of Navigate Autism and KnoWEwell's Director of People Experiences and Webcast Host, is a sought after speaker and parenting expert who shares tips and strategies with employees of organizations such as JetBlue, Disney, JP Morgan Chase, American Express, and the US Senate.
Join Jane Lynn and KnoWEwell Special Needs co-host, Patricia Trenchak, as they discuss the signs and symptoms of ADD and ADHD and strategies to help parents successfully navigate the challenges this brings to their life and their child's future.
In this program, you will learn:
What is ADD and ADHD and what causes it

How to overcome the stigma often associated with ADD and ADHD

Natural therapeutic approaches

Strategies to help you and your child succeed
KnoWEwell, P.B.C. 
KnoWEwell is the global Regenerative Whole HealthTM (RWH) benefits and services company. An award-winning, woman majority-owned, B Certified pending corporation, and 1% for the Planet member.
We operate KnoWEwell.com, the one online destination for today's trusted RWH knowledge, resources, and ecosystem collaborating to inspire and empower individuals to prevent harm, address chronic disease, and achieve WELLthier LivingTM.
We are on a mission to transform healthcare. We share knowledge and healing success stories, offer access to screened, verified and background-checked RWH practitioners, provide expert-led and peer-reviewed content and evidence-based resources, create meaningful connections, and help today's practitioners, and mission-aligned nonprofits and businesses prosper.