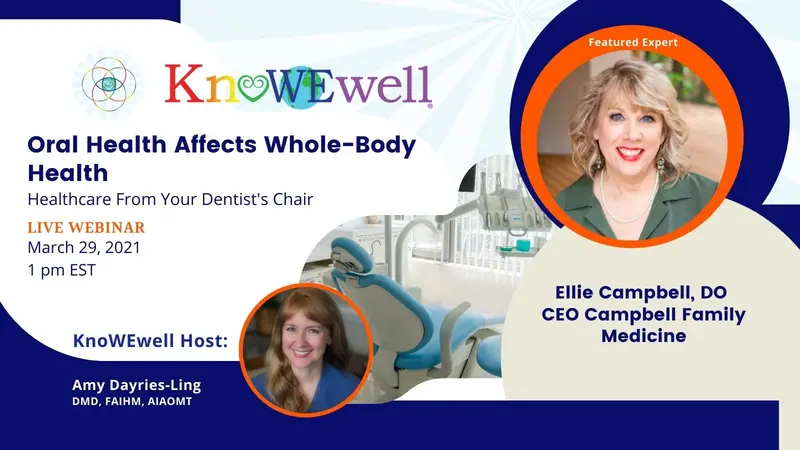 Oral Health Affects Whole-Body Health

Many connections exist between oral health and systemic health. What is the relationship between teeth and body? How can you diagnose if the cause of a health problem can be found in the mouth? How important is interdisciplinary cooperation of dentist, physician, hygienist, and other medical professionals?
Join biological dentist, Amy Dayries-Ling, DMD and Doctor of Osteopathic Medicine, Ellie Campbell, as they answer these questions and get to the "root" of the problem. Dr. Dayries-Ling and Dr. Campbell will focus on the importance of interdisciplinary cooperation for whole-body health, and discuss factors from patient education to diagnostic testing and laboratory findings.
KnoWEwell® is the one destination for today's trusted Regenerative Whole Health™ knowledge, resources and community. The global community and marketplace ecosystem collaborating to inspire and empower individuals to achieve WELLthier Living™.
Join the movement as we share knowledge and healing success stories, provide access to evidence-based resources, create meaningful connections and help today's providers, mission-aligned nonprofits and businesses opportunities prosper. 
We are transforming the healthcare we know.