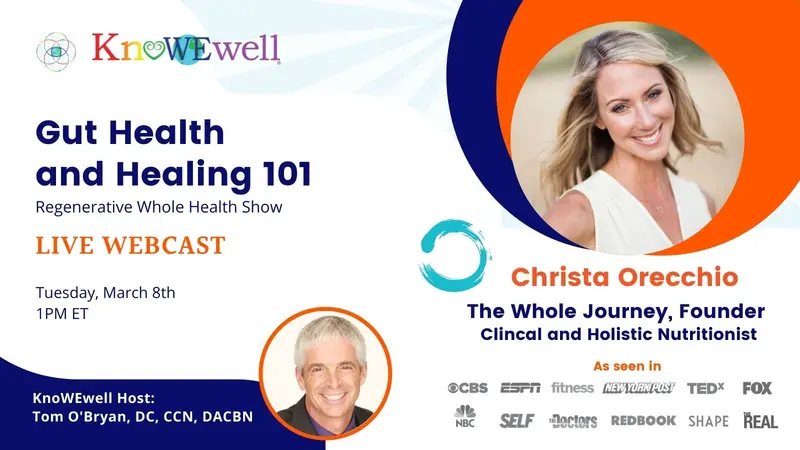 Regenerative Whole Health Show: Gut Health and Healing 101

The Whole Journey was founded by Christa Orecchio, a clinical and holistic nutritionist with 15 years of experience. Christa is the author of three books and hosts three health and wellness TV shows. Nearly 15,000 customers worldwide have been tested and transformed by their programs.
Join us as she shares her transformative knowledge. You will learn:
What is the microbiome?

What are the three types of "bugs" that make up our microbiome and why it's so important to keep them balanced?

How does someone's personal health history influence their microbiome?

What is leaky gut and how does that lead to autoimmune disease?

Common gut infections and why are they so proliferate?

What are the best foods, supplements, and practices to help heal the lining of the gut?

Overcoming these infections by interrupting something called quorum sensing.

What kind of supplements and/or cleansing techniques are involved to execute this strategy?

The Whole Journey - 5 steps to rejuvenating the microbiome and immune system.
The Whole Journey Philosophy
We believe every individual has distinct dietary needs based upon genetics, lifestyle, gender, age, blood type, stress levels, how they ate as a child, current state of health and future health goals.
While many nutritional philosophies dwell on calories, carbs, fats, proteins, and restrictive "good and bad" foods, The Whole Journey philosophy provides our community with the tools to create a happier, healthier life in a way that fun, flexible, and free of willpower and denial.
We also focus on primary food elements that nourish you including honest, open relationships, movement you enjoy, a meaningful spiritual practice, a creative outlet that inspires you, and an understanding that there can be emotional roots to physical illness.
By creating a balance between the clinical aspects of health, primary foods and the foods you eat everyday; you'll experience steady changes in your health and well being that you'll be able to maintain for life.
We have helped over 15, 000 customers world-wide and are now educating practitioners to help them become gut health experts to help heal their patients. Practitioners join us for our webinar on March 15th to learn more. Classes start March 29th.
KnoWEwell, P.B.C. 
KnoWEwell is the global Regenerative Whole Health™ (RWH) benefits and services company. An award-winning, woman majority-owned, B Certified pending corporation, and 1% for the Planet member.
We operate KnoWEwell.com, the one online destination for today's trusted RWH knowledge, resources, and ecosystem collaborating to inspire and empower individuals to prevent harm, address chronic disease, and achieve WELLthier LivingTM.
We are on a mission to transform healthcare. We share knowledge and healing success stories, offer access to screened, verified and background-checked RWH practitioners, provide expert-led and peer-reviewed content and evidence-based resources, create meaningful connections, and help today's practitioners, and mission-aligned nonprofits and businesses prosper.