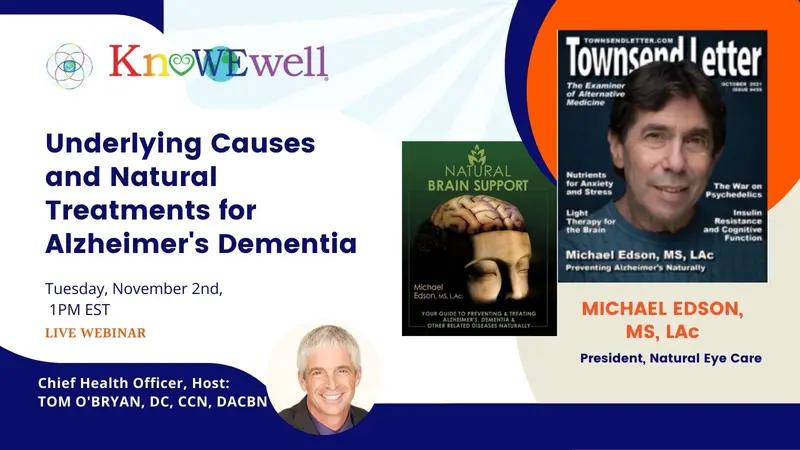 Tuesdays With Dr. Tom: Underlying Causes and Natural Treatments for Alzheimer's and Dementia

According to Michael Edson "the brain is connected to the health of the whole body, so when one looks at brain health, we also have to look at many other variables that contribute both to its healthy function as well as its decline. Medications may help in the short-term, but single solutions are not going to bring overall positive results without evaluating the complex relationship of the whole body to the brain." 
Michael Edson, MS, LAc,  president of Natural Eye Care, podcast host, author of "Natural Brain Support: Your Guide to Preventing and Treating Alzheimer's, dementia, and Other Related Diseases Naturally" and recently published in the Townsend Letter, joins KnoWEwell's Chief Health Officer, Dr. Tom O'Bryan of theDr.com, to discuss how to prevent and naturally treat conditions such as Alzheimer's, Dementia, and other related diseases based on the contributing and causative factors from over 3,200 peer-reviewed research studies.  
KnoWEwell, P.B.C. 
KnoWEwell is the global Regenerative Whole HealthTM (RWH) benefits and services company. An award-winning, woman majority-owned, B Certified pending corporation, and 1% for the Planet member.  
We operate KnoWEwell.com, the one online destination for today's trusted Regenerative Whole Health knowledge, resources, and ecosystem collaborating to inspire and empower individuals to prevent harm, address chronic diseases and achieve WELLthier Living™.  
We are on a mission to transform healthcare, as we share knowledge and healing success stories, offer access to screened, verified and background-checked RWH practitioners, provide expert-led and peer-reviewed content and evidence-based resources, create meaningful connections, and help today's providers, and mission-aligned nonprofits and businesses prosper.