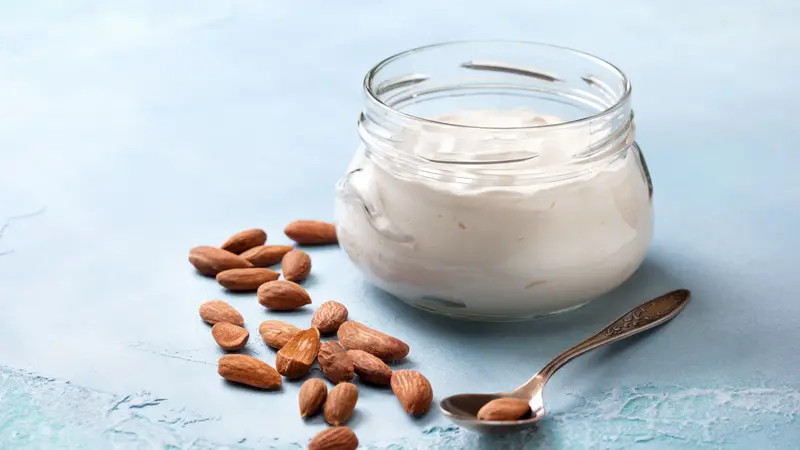 Journal Abstracts
Jul 12, 2023
Almond-based Yogurt Most Nutrient Dense
Plant-based alternatives to dairy are gaining popularity and becoming more readily available to consumers. However, dairy yogurts provide significant dietary nutrients, and substituting plant-based yogurts may have unintended nutritional consequences. A new study published in Frontiers in Nutrition compared the macronutrient and micronutrient values of commercially available plant-based and dairy yogurts launched between 2016 and 2021.
The researchers collected information on yogurts through a database (Mintel Global New Products Database), and categorized the products according to their primary ingredient. Regular-style yogurts were included in this study: full-fat dairy, low and nonfat dairy, coconut, almond, cashew, and oat. The nutritional density of the yogurts was compared based on nutrients to encourage (protein, fiber, calcium, iron, potassium, vitamin D) and nutrients to limit (saturated fat, total sugar, sodium). Utilizing the Nutrient Rich Foods Index (a comprehensive food guidance system that assigns a score based on the nutrient density of individual foods), the study found that almond-based yogurts had the highest nutrient density.
Compared to dairy yogurts, plant-based yogurts contained significantly less total sugar, less sodium, and more fiber. However, plant-based yogurts contained significantly less protein, calcium, and potassium than dairy yogurts. The yogurts were ranked from the highest to lowest nutrient density based on the NRF Index as follows: almond, oat, low and nonfat dairy, full-fat dairy, cashew, and coconut. Almond yogurts scored significantly higher than all other yogurts, indicating the highest nutrient density.
Advanced Search on this topic