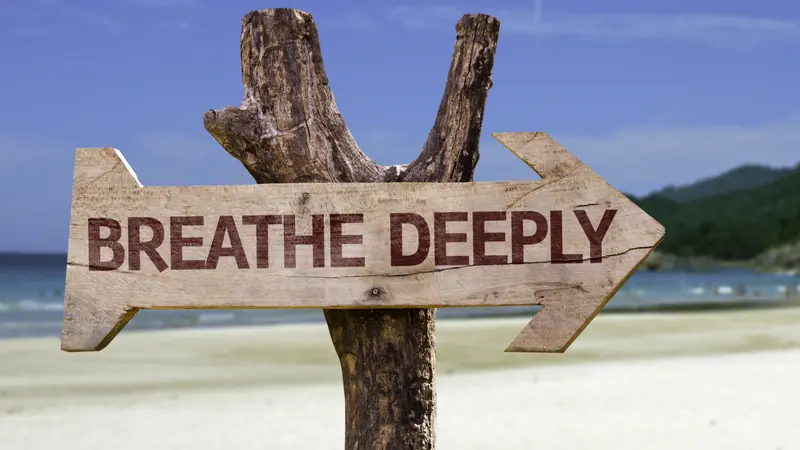 ESB Professional/Shutterstock

Integrative Health and Wellness
Insights
Feb 09, 2022

Integrative Health and Wellness
The Benefits of Controlled Breathing
An increasing body of research shows that controlled-breathing techniques offer stress relief and many other health benefits.
For most of us, breathing is automatic. We do it without giving it much thought at all. But putting some purpose behind breathing—whether as part of your yoga routine, instructed by your practitioner, or from one of the many great breathing apps—has many benefits. Just...
B-R-E-A-T-H-E
Pranayama is the ancient practice of controlled breathing and is a regular part of yoga. In Sanskrit, "prana" means life energy and "yama" means control. Controlled breathing supplies your body with oxygen while removing toxins. For thousands of years, this practice of controlling the timing, duration, and frequency of every breath and hold has been used as a tool for impacting the mind and the body. As with many traditional health and well-being practices, modern research is confirming its benefits. Controlled breathing not only relaxes you, but it also has positive effects on your physical and mental health.
The most obvious benefit of deep-breathing techniques may be on lung function. In a meta-analysis of the effects of deep breathing on health, published in Medicines (Basel), researchers found that deep breathing appears to be effective for improving the exercise capacity and respiratory function in patients with chronic obstructive pulmonary disease (COPD). As an exercise, breathing exercises may strengthen your lungs. In a short-term study involving 50 yoga trainees in India who practiced pranayama for one hour a day, six days a week, for six weeks, researchers found there was a statistically significant increase in lung function. These researchers also believe that pranayama may be used as a lung-strengthening tool to treat lung diseases like asthma, allergic bronchitis, many occupational diseases, and for recovery from pneumonia and tuberculosis.
Controlled breathing not only relaxes you, but it also has positive effects on your physical and mental health.
According to the Centers for Disease Control and Prevention (CDC), high blood pressure, or hypertension, effects 116 million or nearly half of the adults in the United States. Hypertension puts you at risk for heart disease and stroke and was the primary or contributing cause of more than half a million deaths in the US in 2019. Slow, deep breathing activates the parasympathetic nervous system which decreases the heart rate and dilates blood vessels, reducing your overall blood pressure. The reduction in blood pressure following deep-breathing exercises was confirmed in a large Japanese study published in an article in Nature.
Breathing exercises can also be used to send messages along the vagus nerve to calm us down—a kind of built-in stress releaser. In a study published in Neurological Sciences of 38 university students, researchers found that deep breathing is capable of improving mood and stress, both in terms of self-reported evaluations and of objective parameters such as heart rate and cortisol levels. In another study, published in the International Journal of Yoga, researchers evaluated the effect of breathing techniques on anxiety. The study included 107 students, half of whom practiced pranayama for a semester. Researchers found that the group that practiced controlled-breathing techniques had half the number of students with high anxiety before the final exam and performed better in the exam as compared to the control group.
The ability to calm oneself with breathing exercises also improves sleep quality. In a study published in the European Respiratory Journal, of 40 patients with moderate obstructive sleep apnea syndrome, those given oropharyngeal exercises (soft palate, tongue, and facial-muscle exercises) and practiced pranayama had a significant decrease in neck circumference, snoring frequency, and daytime sleepiness, as well as improved sleep quality. In a Frontiers in Psychiatry article analyzing existing research, the authors suggest that slow-breathing techniques, in addition to relaxation techniques and sleep hygiene, may be a more powerful tool in combating insomnia than the use of hypnotics and pharmaceuticals.
Researchers believe the improved cognitive function in the pranayama groups may be due to reduced stress and improved ability to concentrate.
Deep, controlled breathing may be beneficial for your brain too. In a meta-analysis of 16 studies published in the Journal of Applied Cognitive Neuroscience, researchers found that meditation-based breathing techniques improved pain and cognitive function in patients. Under the supervision of a certified yoga instructor, other researchers conducted a 12-week study of 84 participants on the effects of pranayama on cognitive function, with results published in the Journal of Clinical & Diagnostic Research. The participants were split into three groups—a control group and two pranayama groups, one of which practiced slow-breathing techniques and the other, fast ones. Researchers observed that both types of pranayama significantly improved executive function and reaction time on cognitive tests, as well as perceived stress level. However, improvements in reaction time, auditory working memory (the ability to take in information, process it, and recall it), central neural processing, and sensory-motor performance were greater in the fast-breathing pranayama group. The researchers believe the improved cognitive function in the pranayama groups may be due to reduced stress and improved ability to concentrate.
So, take a deep breath in through your nose, hold, and breathe out slowly. Do it again as your stress melts away and your blood pressure lowers—and know you are on a path to a healthier you.
REFERENCES

Alzate-Granados, J., et al. (2020, December 7). Breathing technique in pain and cognitive function: A systematic review of the literature. Journal of Applied Cognitive Neuroscience. https://revistascientificas.cuc.edu.co/JACN/article/view/3330

Centers for Disease Control and Prevention. (2021, September 27). High blood pressure: Facts about hypertension. https://www.cdc.gov/bloodpressure/facts.htm

Hamasaki, H. (2020, October 7). Effects of diaphragmatic breathing on health: A narrative review. Medicines (Basel). https://www.ncbi.nlm.nih.gov/pmc/articles/PMC7602530/

Jerath, R., Beveridge, C., & Barnes, V. (2019, January 29). Self-regulation of breathing as an adjunctive treatment of insomnia. Frontiers in Psychiatry. https://www.ncbi.nlm.nih.gov/pmc/articles/PMC6361823/#B89

Kaur, A., & Mitra, M. (2019, September). Effect of oropharyngeal exercises and pranayama on snoring, daytime sleepiness and quality of sleep in patients with moderate obstructive sleep apnea syndrome. European Respiratory Journal. https://erj.ersjournals.com/content/54/suppl_63/PA577

Mori, H., et al. (2005, June 1). How does deep breathing affect office blood pressure and pulse rate? Nature. https://www.nature.com/articles/hr200562

Nemali, A. (2013, January-June). The effect of pranayama on test anxiety and test performance. International Journal of Yoga. https://www.ncbi.nlm.nih.gov/pmc/articles/PMC3573544/

Perciavalle, V., et al. (2016, December 19). The role of deep breathing on stress. Neurological Sciences. https://link.springer.com/article/10.1007/s10072-016-2790-8?

Shankarappa V., Prashanth P., & Nachal Annamalai, V. (2012, February 15). The short term effect of pranayama on the lung parameters. Journal of Clinical and Diagnostic Research. https://www.jcdr.net/articles/PDF/1861/6%20-%203476.(A).pdf

Sharma, V., et al. (2013, November 18). Effect of fast and slow pranayama practice on cognitive functions in healthy volunteers. Journal of Clinical & Diagnostic Research. https://www.ncbi.nlm.nih.gov/pmc/articles/PMC3939514/
Advanced Search on this topic