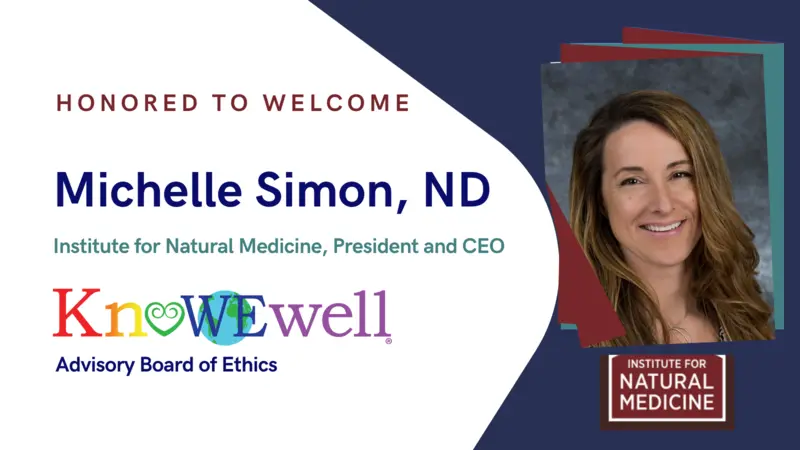 News Briefs
Dec 16, 2021

Dr. Michelle Simon Joins KnoWEwell Advisory Board of Ethics
Far Hills, NJ, December 16, 2021 – KnoWEwell®, the global Regenerative Whole Health™ benefits and services company, has appointed Michelle Simon, PhD, ND, to its Advisory Board of Ethics. 
Members of KnoWEwell's Advisory Board of Ethics provide management with an independent view and advice on the company's policies and practices considering its public benefit statement, B Lab certification, and 1% for the Planet membership.  Kimberly Whittle, KnoWEwell's Founder and CEO said, "We are honored to have such a passionate and transformative industry leader of Dr. Simon's caliber join our Advisory Board of Ethics."
Dr. Simon is a licensed naturopathic doctor and currently serves as the President and CEO of the Institute for Natural Medicine, an organization that educates about and increases access to natural medicine options for consumers. She also serves on boards for the Integrative Healthcare Policy Consortium, the American Association of Naturopathic Physicians, and the Naturopathic Physicians Research Institute. Dr. Simon previously served as an Ambassador with the Academy of Integrative Health and Medicine (AIHM) and on the board of the Washington State Health Technology Clinical Committee, which is part of the state's Health Technology Assessment Program.
Upon her appointment, Dr. Simon stated, "I am honored to join the KnoWEwell Advisory Board of Ethics.  I support the organization and its goal of improving the health and well-being of humanity and the planet.  The unique approach KnoWEwell has taken is visionary and comes at just the right time for all of us who are interested in Regenerative Whole Health."
About KnoWEwell
KnoWEwell, P.B.C. is the Global Regenerative Whole Health™ (RWH) benefits and services company. We are growing the Regenerative Whole Health digital ecosystem of individuals, practitioners, practitioner professional organizations, universities and colleges, organic farmers, and mission-aligned non-profits and businesses. KnoWEwell helps individuals prevent harm, address chronic diseases, and achieve WELLthier Living™ by learning, engaging, and making meaningful connections in our private, secure community and marketplace with our trusted network.
Media Contact:
Patricia Trenchek
Public Relations
1.855.KWE.WELL (1.855.593.9355)
Advanced Search on this topic