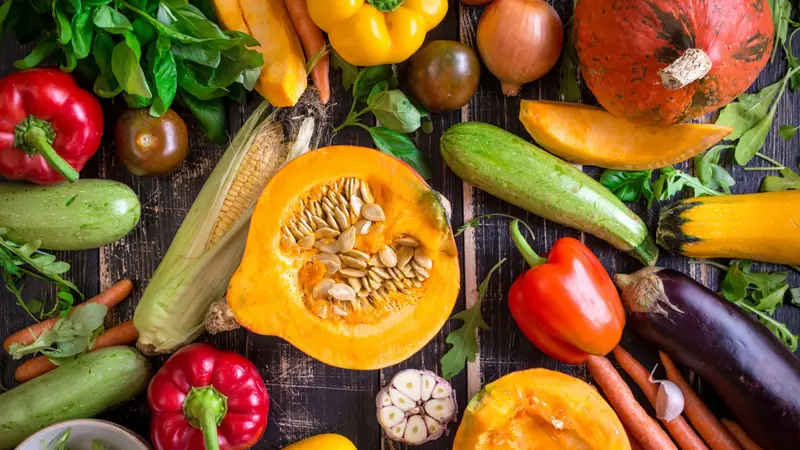 Elena Eryomenko/Shutterstock

Food, Farming and Nutrition
Insights
Sep 22, 2022

Food, Farming and Nutrition
Fall Foods to Boost Your Health
Did you know that steady blood sugar is the ONLY thing that centenarians, people who live to 100 years old, have in common?
On today's food as medicine, we discuss how to get slow carbs into your diet and extract the benefits of healing fall foods and spices.
Fall foods are supposed to be nourishing and comforting. They come with grounding, calming, and balancing energy that gets transferred to us after we eat them.
Anything that grows deep within the earth can have this kind of energetic effect on our mental and emotional state while also physically nourishing our bodies.
And as a huge bonus, they are the perfect way to undermine a sweet tooth because when we stage these sweet, slow-releasing vegetables in our diet, we never get the intense cravings for cookies, ice cream, and candy.
With the turn of the seasons, now is the time to incorporate more use of high-quality spices with Ceylon cinnamon topping the list. Ceylon cinnamon is REAL cinnamon whereas the general kind, cassia, is not. Make sure you check your bottles and upgrade this master spice that is clinically proven to lower LDL cholesterol, and a mere teaspoon of it can help balance blood sugar for up to 24 hours. The caveat to our pregnant ladies is that cinnamon can increase blood flow, so your dose will not be quite 1/8 of a teaspoon but rather a sprinkle on oatmeal and smoothies.
Here are our favorite root veggies with some recipes to help you get more of them deliciously in your diet.
Sweet potatoes, yams (the darker ones), and beets – Cider Roasted Vegetables
Butternut squash – Butternut Squash Soup
Acorn Squash – Wild Rice Stuffed Squash
Carrots – Carrot Veggie Soup
Parsnips – Trio Mashed Potatoes (with parsnips!)
Which ones will you try first?
This article is reprinted with permission from the author, Christa Orecchio, CN, HHC, and first appeared in The Whole Journey.
REFERENCES
Advanced Search on this topic