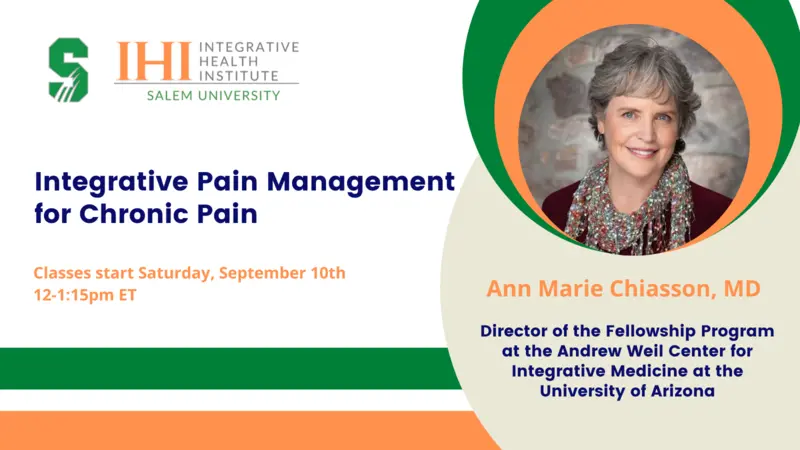 Integrative Pain Management for Chronic Pain

Chronic Pain requires additional treatments to medications alone. Come learn Integrative Pain Management Strategies that focus on non-opioid management.
Pain that lasts more than three to six months develops a different pathophysiology in the body and brain due to central and peripheral sensitization. Further, the 2022 CDC opioid guidelines delineate the use of Integrative Therapies as first line management in many or most chronic pain syndromes due to the evidence that has been demonstrated in the medical literature. 
Come join Dr. Ann Marie Chiasson, Director of the Fellowship Program at the Andrew Weil Center for Integrative Medicine at the University of Arizona, to explore evidence-based strategies for chronic pain management. Dr. Chiasson will focus on therapies that have a physiologic basis including mind-body medicine, nutrition and dietary supplements, movement therapies, and acupuncture.  
A free webinar is being offered to give a preview of this course. More details can be found here. 
This course will cover:
The physiology of acute pain and central and peripheral sensitization that occurs in chronic pain
The mechanisms of action and evidence for multiple Mind-Body therapies for central sensitization
The role and benefit of nutritional therapies and dietary supplements in chronic pain
The evidence for and use of movement therapies and other integrative therapies for chronic pain syndromes
This course is suitable for chronic pain patients and practitioners that work with patients with chronic pain, including physicians, nurses and nurse practitioners, physician assistants and allied health care practitioners. While the scientific basis of the mechanisms of pain and integrative therapies evidence will be addressed, this course will be understandable for those without a medical background.
4 Class Meetings: Saturdays, September 10th, 17th, and 24th, and October 1st, 12-1:15pm ET.
You are welcome to join the course at any point throughout the four-session series. If your schedule doesn't allow you to attend live, all four sessions will be recorded and made available to students. 
Course fee: $199