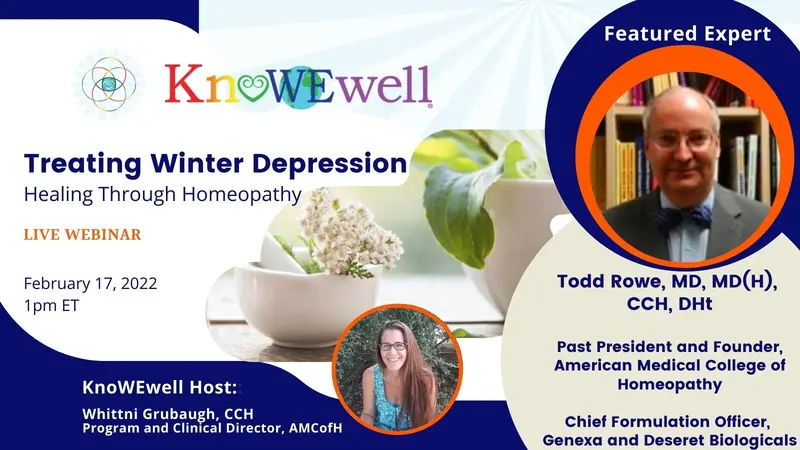 Healing through Homeopathy: Treating Winter Depression

Approximately 5% of adults in the United States experience winter depression, which typically lasts 40% of the year. 
Winter depression is related to changes in the seasons (less sunlight), with symptoms of fatigue, sadness and moodiness. It is more common among women than men, and among the treatment options are psychotherapy, medicine, light therapy, and homeopathic medicine.
This month, "Healing through Homeopathy" host, Whittni Grubaugh, DIHom, CCH, and Homeopathic Program Director of the American Medical College of Homeopathy, is joined by Todd Rowe, MD, MD(H), CCH and DHt, to talk about how to treat winter depression using homeopathic medicine. 
Dr. Rowe is the past president and founder of the American Medical College of Homeopathy, and past president of the National Center for Homeopathy and the Arizona Board of Homeopathic and Integrated Medicine Examiners. Currently, Dr. Rowe is the director of homeopathic research for the Foundation for PIHMA Education and Research. He also works as the Chief Formulation Officer for Genexa and for Deseret Biologicals.
In this program, you will:
Learn the signs and symptoms of winter depression

Explore the role of homeopathic medicine in treating winter depression

Discover self-help options for treating winter depression
KnoWEwell, P.B.C.
KnoWEwell is the global Regenerative Whole HealthTM (RWH) benefits and services company. An award-winning, woman majority-owned, B Certified pending corporation, and 1% for the Planet member.
We operate KnoWEwell.com, the one online destination for today's trusted Regenerative Whole Health knowledge, resources, and ecosystem collaborating to inspire and empower individuals to prevent harm, address chronic diseases and achieve WELLthier LivingTM. 
We are on a mission to transform healthcare, as we share knowledge and healing success stories, provide access to screened, verified and background-checked RWH practitioners, provide expert-led and peer-reviewed content and evidence-based resources, create meaningful connections, and help today's providers, mission-aligned nonprofits, and businesses prosper.
American Medical College of Homeopathy (AMCofH)
Established in 1999, AMCofH homeopathic programs have been a leader in Homeopathic Education and Research. Their online and classroom-based programs make homeopathy accessible to all those who long to embrace and practice this effective system of medicine.
The AMCofH homeopathic programs are owned and operated by the Phoenix Institute of Herbal Medicine & Acupuncture (PIHMA) Center for Professional Education & Development (CPED). While founded within the Phoenix Institute of Herbal Medicine & Acupuncture (PIHMA) as a center of excellence providing education and professional development, PIHMA CPED was spun off into its own separate, stand-alone company in 2019 as a way of enabling the new company to grow in its service to Licensed Healthcare Providers. 
AMCofH and PIHMA CPED are committed to transforming lives through outstanding homeopathic education, research, and clinical services.