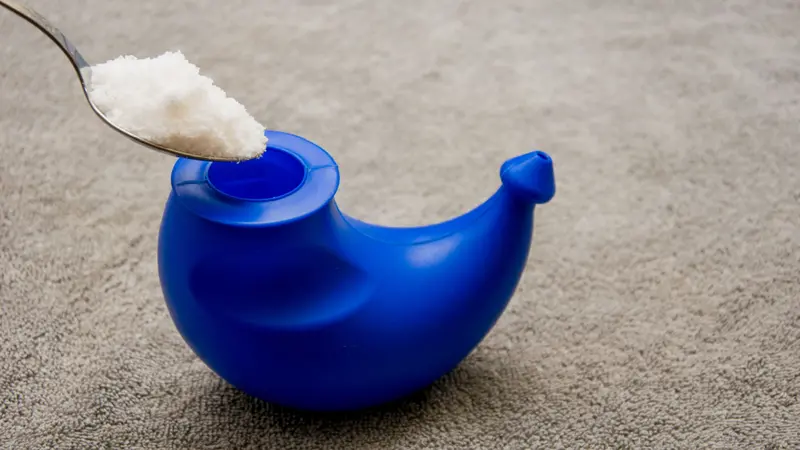 Zapylaiev Kostiantyn/Shutterstock
Clinical Abstracts
Nov 02, 2022
Does Nasal Irrigation Help with COVID-19?
The practice of nasal irrigation likely originated in India's Ayurvedic medical tradition called jala-neti. Today, neti pots can be found at local pharmacies or online. Rinsing the nasal cavity through the practice of nasal irrigation can be beneficial for conditions like sinus infections, the common cold, and allergies.
Can nasal irrigation even reduce the severity of a COVID-19 infection?
Researchers set out to determine whether saline nasal irrigation after a COVID-19 diagnosis reduces hospitalization and death in high-risk outpatients, and whether the composition of the irrigant impacts severity.
A group of 79 high-risk participants aged 55 and older were enrolled within 24 hours of a positive PCR test between September 24 and December 21, 2020. The participants were randomly assigned to add either povidone-iodine 10% or sodium bicarbonate to isotonic nasal irrigation twice daily for 14 days.
Of 42 participants irrigating with sodium bicarbonate, there was one emergency department visit and no hospitalizations. Of the 37 participants irrigating with povidone-iodine, there was one hospitalization (1.27%), and there were no deaths in either group. Symptoms were more likely to be resolved for participants who reported twice daily irrigation regardless of the additive.
By comparison, of nearly three million cases (as reported in the CDC Surveillance Dataset) during the same time period, the total risk of hospitalization or death was 11%, with 9.47% hospitalized and an additional 1.5% deaths in those without hospitalization data. The participants initiating nasal irrigation were 8.6 times less likely to be hospitalized than the national rate.
The researchers say nasal washes are inexpensive and safe and can be administered at home using half a teaspoon each of salt and baking soda in a cup of boiled or distilled water. "In areas remote to healthcare, this simple intervention can reduce the likelihood of severe disease," said the senior author.
REFERENCES
Advanced Search on this topic