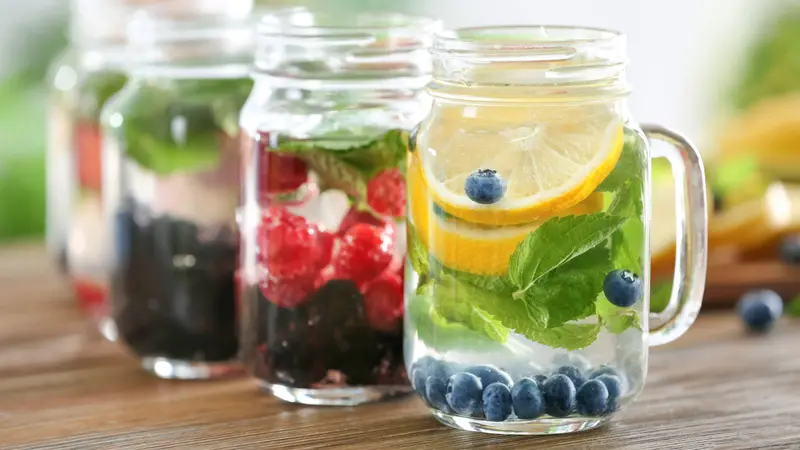 Africa Studio/Shutterstock

Food, Farming and Nutrition
Insights
Aug 22, 2022

Food, Farming and Nutrition
Healthy Summer Treats Utilizing Fresh Fruits and Vegetables
Summer gives us all a great excuse to lighten up and add more vibrant, fresh in-season fruits and vegetables to the mix. It's fun to get creative, and affords a greater spring in your step from the higher influx of nutrients running through your system.
1) Make fruit water in lieu of drinking sugary drinks! 
So often we overload on calories and sugar, consuming sweetened teas and lemonade as a favorite summer pastime. Try this healthy substitute below, guaranteed to instantly refresh you and delight your taste buds.
Fruit Water (use one of each of the following fruits):
Apple
Lemon
Orange
Pear
4 large strawberries
a handful of raspberries
a handful of mint leaves
½ gallon pure water
Cut large slices or thin wedges of each fruit; place them in a large glass pitcher and add water. Refrigerate for 2 hours and serve in tall glasses for a delicious and refreshing drink.
2) Be inventive with your smoothies!
Make extra to pour into ice molds or Popsicle molds for a sweet dessert.
Berry Green Delicious Smoothie
1 cup unsweetened almond milk, coconut milk, or coconut water
1 cup fresh, organic mixed berries
1/2 banana
1/2 mango
1 large handful of kale (de-stemmed) or spinach
1/4 teaspoon coconut oil 
1 scoop whey or egg white protein powder
2 T ground flax or hemp seeds
The Avocado Smoothie Snack
1 cup coconut water
1/2 ripe avocado
2 tablespoon hemp seeds
1/8 teaspoon sea salt
1 scoop plant-based protein powder
1 large handful of kale or spinach
3) Get green with juicing!
Juicing greens is one of the fastest ways to purify the blood, improve circulation, and lift the spirit. Try juicing a variety of them as a refreshing summer drink.
Emerald Bliss (our personal favorite)
3 kale leaves, de-stemmed
3 stalks of celery
1 handful of parsley
1 handful of romaine lettuce
1" section of ginger (peeled)
2 green apples
1 cucumber (peeled)
Sweet Green Juice 
1 cucumber
1 carrot 
1 green apple
1/4 cup parsley
1/4 cup mint
1 stalk of celery
1/2 inch of fresh ginger
1/2 lemon (peeled)
The Blue Green (this one is best in a blender) 
2 cups young coconut meat
2 teaspoons coconut oil
4 teaspoons blue green algae
1/8 cup agave nectar
12 fresh mint leaves
3 cups coconut water
1 teaspoon vanilla
1 pinch sea salt
4) Embrace the acai berry 
The acai berry is touted as one of the highest ORAC value foods in the world, meaning it has an amazing ability to fight free radicals in the body while providing more antioxidants than blueberries. It is a very balanced fruit because it also contains protein and essential fatty acids. The taste is a combination between chocolate and red wine. Now who wouldn't like that? Acai is typically found by the frozen berries in health food stores. Try our favorite acai bowl as a healthy summer breakfast or mid-afternoon snack.
Antioxidant Packed Acai Bowl
2 packets frozen acai (unsweetened)
1 banana
1 cup unsweetened almond milk (unsweetened)
1/2 cup frozen strawberries (optional)
Blend.
Toppings: raw cacao nibs, raw slivered almonds or cashews, hemp seeds, raw organic local honey, local bee pollen
This article is reprinted with permission from the author, Christa Orecchio, CN, HHC, and first appeared in The Whole Journey.
Advanced Search on this topic