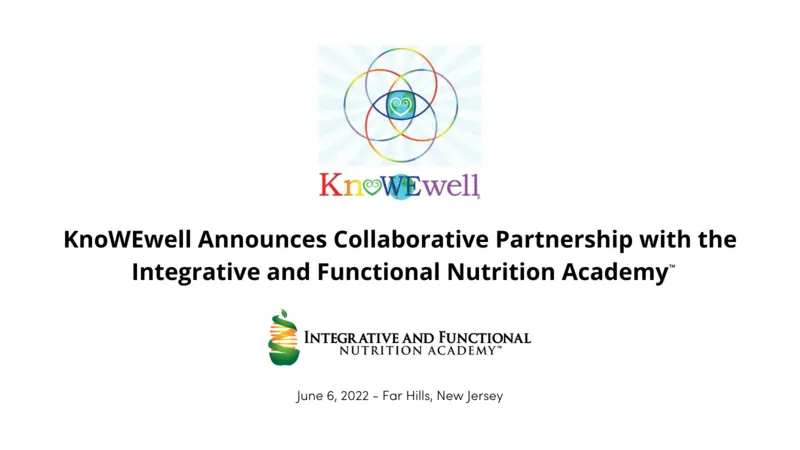 News Briefs
Jun 04, 2022

IFNA and Regenerative Whole HealthTM Hub Team-up to Expand Education
Increasing consumer demand, advancing technology, and the changing healthcare landscape are driving the demand for clinicians trained in integrative and functional nutrition. Today, KnoWEwell announces its collaborative partnership with the Integrative and Functional Nutrition Academy (IFNA). Founded by two of the nation's premier integrative medicine nutritionists, IFNA is one of the most respected online functional nutrition training and mentoring programs in the industry.
"IFNA's 100% online, self-paced programs teach leading-edge, evidence-based, and whole-person approaches to patient care. Their students learn to identify the "root causes" of disease, assess a patient using a "whole systems" approach, and personalize a holistic nutrition care plan to restore function and improve patient outcomes," stated KnoWEwell CEO Kimberly Whittle. "We are excited to welcome IFNA to our growing KnoWEwell Collaborative. We look forward to sharing their knowledge and helping the global KnoWEwell community connect with their credentialed graduates to help them restore function, improve outcomes, and reach their goals for optimal health." 
IFNA was established to transform the practice of nutrition with a deep sense of purpose. Their curriculum consists of five tracks of 33 programs. Their medical nutrition model focuses on identifying root causes and imbalances to significantly improve health outcomes and combines the best of modern science, clinical wisdom, and critical thinking. Students obtain a deep understanding of function, not just pathology, networks of physiology, not just "silo" organ systems, and an organized, integrated nutrition assessment process.
"KnoWEwell is a perfect partner for our organization to share our knowledge, showcase our educational programs for practitioners and potential future graduates, and help consumers understand the value of an IFNA certification when seeking a nutritionist to address their chronic and other health needs," says Dr. Sheila Dean, IFNA's co-founder.
Through this partnership, IFNA will have a private group in KnoWEwell's Hub and its practitioners will benefit from membership in KnoWEwell. KnoWEwell members will benefit from access to best-matched board-certified Integrative and Functional Nutrition Certified Practitioners (IFNCP) within the Hub, the knowledge shared by IFNCP's through a quarterly educational series sponsored by IFNA, and valuable discounts on all five IFNA tracks.
About KnoWEwell P.B.C.
KnoWEwell P.B.C. is the global Regenerative Whole Health (RWH) benefits and services company. KnoWEwell operates KnoWEwell.com, the private and secure Regenerative Whole Health Hub – the all-in-one, global, trusted online health and well-being solution. The Hub bridges the knowledge, access, and insurance gaps; centralizes knowledge, education, and evidence-based resources; and connects the ecosystem to collaboratively help individuals prevent harm, address the root causes of disease, and achieve WELLthier Living™– happy, healthy, abundant, purposed-filled living.
Member benefits include a diverse and inclusive global network of screened RWH practitioners, evidence-based educational resources, and immersive learning opportunities that connect the dots between soil, food, lifestyle choices, and planet and people health. KnoWEwell services inspire hope, celebrate healing successes, help members create meaningful connections, and enable today's RWH practitioners and mission-aligned nonprofits and businesses prosper. KnoWEwell is committed to improving population health and transforming the healthcare we know.
Media Contacts
KnoWEwell, P.B.C.
Jennie Jerez
571.488.5805
Media Contacts
Integrative and Functional Nutrition Academy
Kristine Newsome
727.781.0571