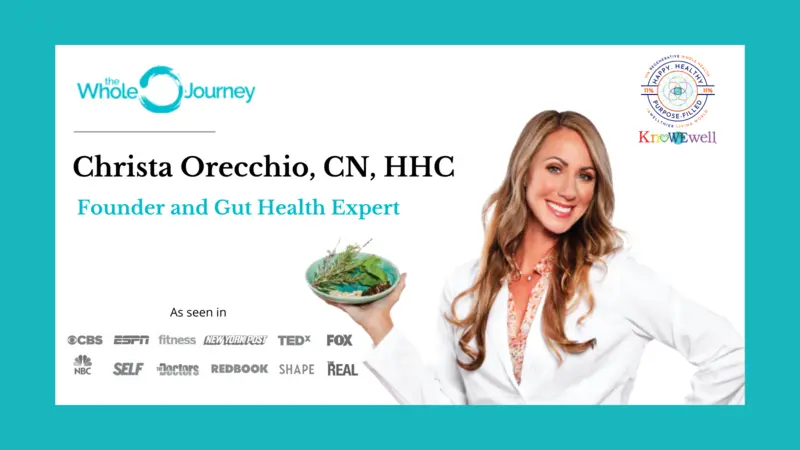 News Briefs
Mar 08, 2022

The Whole Journey Joins the KnoWEwell Collaborative
Collaborative Partner Helps People Thrive
KnoWEwell®, the global Regenerative Whole Health™ benefits and services company, announced a new collaborative partnership with The Whole Journey, Inc., a digital health company that combines algorithmic-based assessments with science-backed food, lifestyle, and supplement protocols to address gut, immune, adrenal, thyroid, and hormonal health issues. Nearly 15,000 customers worldwide have been tested and transformed by The Whole Journey's programs. 
Kimberly Whittle, KnoWEwell's Founder and CEO said, "We are honored to partner with The Whole Journey to be a force for good health. Their mind-body-spirit approach to total health and their mission to make a positive impact on the state of our food supply, environment, and health care system align perfectly with KnoWEwell's mission."
Christa Orecchio is a best-selling author of How to Conceive Naturally and Have a Healthy Pregnancy After 30 and two other books, a sought-after speaker, and the host of three health and wellness TV shows. She also is a clinical and holistic nutritionist and founder of The Whole Journey (TWJ). Ms. Orecchio stated, "We are thrilled to bring our knowledge and programs to KnoWEwell's growing global audience and members. We look forward to helping them to heal the root causes of their conditions, empowering them to be in control of their own health, and improving the quality of their lives."
This collaborative partnership provides KnoWEwell individual and practitioner members access to TWJ's mission-aligned, multimedia content and education. TWJ will offer discounts to KnoWEwell members for its education programs and will make them more affordable to members in developing countries. As a new member of the KnoWEwell Collaborative, TWJ is committed to supporting the Regenerative Whole Health Fund, a nonprofit fund established to help individual members in needs with grants to cover their out-of-pocket costs of services from providers in KnoWEwell's network.
Why the Gut Thrive Program was Created
"I created the Gut Thrive Program for all of you who have struggled for years with autoimmune disorders, infertility, SIBO, constipation, bloating, brain fog, and endless other symptoms but could never find a diagnosis or solution. I'm here to help find the root cause of your symptoms so that individuals can finally heal for good. Join me, my clinical team, and our community of 8000+ Gut Thrivers in our 5-step program to optimal gut health." – Christa Orecchio
What Is Leaky Gut & How We Heal It?
There is no "one-size-fits-all" solution for gut and digestive health. That's what makes THJ's program unique. TWJ customizes its program specifically for you by starting with a full digestive health assessment to figure out the cause of your imbalances. They not only heal your leaky gut, but help you rejuvenate your microbiome (your entire digestive and immune system) in a way where it self-regulates for a long time to come.
Individuals Learn More and Thrive
You can learn more about The Whole Journey Gut Thrive Program, as well as how to rejuvenate your health and reset your immune system during their 55-minute webinar 5 Steps to Gut Healing.
In the video, you'll learn how to:
SLASH

inflammation with healing foods and 3 different types of enzymes.

ELIMINATE

symptoms such as insomnia, constipation, brain fog, and exhaustion.

Gently RID your body of many different types of pathogens (those bugs like candida, SIBO, and protozoa).

RE-EDUCATE

your immune system by populating it with specific bacteria that work for your genetics.

HEAL

leaky gut (or intestinal permeability, which leads to bloating and joint pain).

What exactly this experience will be like for YOU based upon your current state of health?

What issues it can help you heal and why this is a long-term solution?
Individuals learn more here
KnoWEwell members receive 30% off Gut Thrive in 5 (GT5)
Practitioners Learn, Help Your Patients
Since 2014, Christa and her team have taken 8,000+ "Gut Thrivers" through her revolutionary Gut Thrive in 5 program to healing the gut and immune system with a 95% success rate. H. pylori, parasites, candida, protozoa, SIBO, leaky gut, GERD, reflux, IBS/IBD… you name it, they've done it! 
This powerful process is reversing autoimmune and chronic digestive disease by the legions, eliminating years, if not decades of chronic pain, and helping people take their health back. 
This program is now available to practitioners like you. Expand your practice and help more people heal – from the root cause and for life – with proven and pioneering protocols. Get certified to be a Gut Health Expert and add this service to your business in 2022.