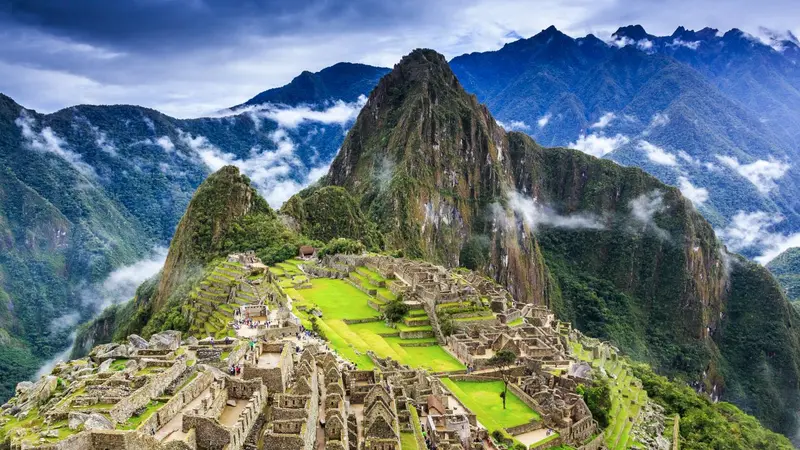 Articles
Aug 31, 2023

Traveling With Purpose: Nine Destinations for Spiritual Enlightenment
by Kiki Powers
Throughout history, humans have embarked on pilgrimages in pursuit of wealth, good fortune, divine intervention, spiritual enlightenment and other blessings. These journeys could be considered the earliest manifestations of one type of adventure travel, while today some of these would be defined as spiritual tourism.
The notion of "spirit" refers to both our conscious and subconscious minds. A spiritual practice, then, is any activity that enables us to step away from the noisy parade of life and explore our emotions, where any concept of the human spirit resides. This spiritual self-care includes any ritual or practice that helps connect us with our most authentic higher self.
Travel can be an amazing way to explore metaphysical interests with new people, sites and scenes, in order to invigorate the senses, stimulate the imagination, refresh the mental framework and invite new ideas and personal insights. Some places qualify for spiritual travel by virtue of their natural beauty, or due to some historical, mythological or religious significance. For a trip that fosters mind-body-spirit self-care with a generous portion of adventure, check out these sacred sites.
Mount Shasta
This majestic mountain, which is associated with healing, transformation and spiritual awakening, is a stunning backdrop for the many spiritual retreats and workshops offered locally that include meditation, energy healing, yoga, sound therapy and other restorative modalities.
Spiritual guide Andrew Oser, who has led Mount Shasta retreats for decades, says, "I can help you allow Mount Shasta's transforming energies into the core of your very being, and by utilizing my direction to harness the mountain's heightened vibration, you will feel it almost magically dissolve all of your fears."
Sedona, Arizona
From venturing to the bright turquoise waters at Havasu Falls nearby to visiting the Chapel of the Holy Cross, there are many activities in Sedona for those wishing to connect more deeply to nature and themselves.
Bali, Indonesia
Known as the "Island of the Gods", Bali is a captivating destination with a serene, spiritual ambiance. Nestled amidst lush greenery and terraced rice fields, the town of Ubud, in the uplands of Bali, enjoys international recognition for its spiritual offerings and welcoming vibe for those seeking inner peace and self-discovery.
Holistic healing options in Bali include energy therapies, sound healing and traditional Balinese massage. Yoga enthusiasts will be delighted with the varied class options, immersive programs and specialized workshops. Along with wellness spas offering rejuvenating treatments that harmonize the body, mind and spirit, Bali offers beautiful meditation areas for quiet contemplation.
Machu Picchu, Peru
For those seeking a deep mystical experience, Peru Sacred Tours provides a safe haven for spiritual advancement with the individualized attention and guidance of indigenous practitioners, including the herbalist shamans of the rainforest, Q'ero Inca priests of Cuzco or Moche San Pedro shamans of Chiclayo.
Egypt
In recent years, there has been a surge in demand for spiritual tours in Egypt, particularly for meditation workshops in iconic places like the Great Pyramid of Giza, Valley of the Kings, Mount Sinai and Nile River. One of the more well-known tour guides is Freddy Silva, a leading researcher of ancient civilizations, sacred sites and their interaction with consciousness, as well as the bestselling author of The Divine Blueprint. 
Varanasi, India
If this strikes a chord, renowned author and spiritual teacher Andrew Harvey is offering a 14-day pilgrimage to the artistic, historical and spiritual soul of North India in November. He is the founder and director of the Institute for Sacred Activism, an international organization that inspires people to take up the challenge of our contemporary global crises by becoming effective, practical agents of institutional and systemic change.
Kyoto, Japan
The traditional tea ceremony offered at numerous venues around the city is a refreshing, meditative practice that cultivates a sense of tranquility and connection to the present moment. Kyoto is also home to exquisite Japanese gardens that illustrate the profound relationship between nature and spirituality in this gentle culture.
Italy
Author of The Art of Pilgrimage: The Seeker's Guide to Making Travel Sacred, Cousineau has stated, "To shine the light of your own natural curiosity into the world of another traveler can reveal wonders—to remember the mysteries you forgot at home. What matters most on your journey is how deeply you see, how attentively you hear, how richly the encounters are felt in your heart and soul."
In partnership with Sacred Earth Journeys, Cousineau has prepared a guided tour in November entitled The Sweet Life of Mythic Italy, which will explore sacred locations in Rome, Perugia, Assisi, Montepulciano, Florence, Verona and Venice. To learn more, visit Tinyurl.com/SweetLifeTour.
Stonehenge, England 
There is further spiritual charm in myths around the purpose of Stonehenge. People ask, "Was it intended as a funeral monument, an astronomical observatory, a tool to predict the seasons or a sanctuary where the sun was worshipped?" Stonehenge is believed to be an epicenter of Earth energy with as many as 14 ley lines converging on the site—powerful channels of energy associated with places of ancient and primordial significance. 
It is plain to see that when we are ready to invest in our spiritual well-being in a fun, mind-expanding way, many mind-body-spirit travel options abound.
Kiki Powers is a health writer, blogger and national speaker specializing in plant-based nutrition and healthy green living. Learn more at RawKiki.com. 
Also check out:
Phil Cousineau, author of The Art of Pilgrimage: The Seeker's Guide to Making Travel Sacred, specializes in creating meaningful travel experiences and leading tours to sacred sites. Read More » 
---
Original article published at Natural Awakenings
Advanced Search on this topic